The Viet Nam Farmers' Union (VFU) yesterday won the Prime Minister's approval for several proposals including increased funding for some initiatives and the union's participation in a major national trade promotion programme.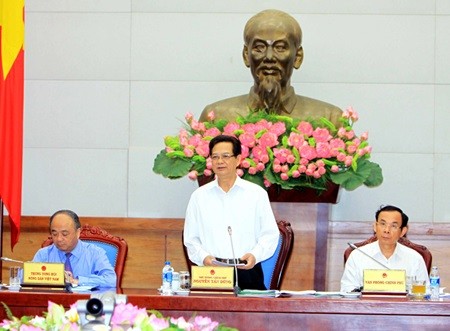 Prime Minister Nguyen Tan Dung has working session with the Viet Nam Farmers' Union (VFU) yesterday. — VNA/VNS Photo An Dang.
In a working session held with Prime Minister Nguyen Tan Dung in Ha Noi, the union proposed the construction of large-scale State-owned produce warehouses, application of new poverty criteria, additional funding for the Central Foundation for Farmers as well as promotion of collective economic models.
It also suggested upgrading of vocational training and support centres for provincial farmers' associations.
At the meeting, representatives from several ministries and agencies offered ideas on workforce training and increasing product values.
The PM said the government had asked concerned agencies to check existing farm produce warehouses before giving further assistance. The Ministry of Labour, Invalids and Social Affairs is working on a set of new poverty and near-poverty standards which are expected to be applied by 2016.
He also agreed that the VFU should join the 2015-2020 trade promotion programme.
VFU President Nguyen Quoc Cuong said they worked effectively in providing advice and vocational training, launched various emulation campaigns and partnered with farmer and international organisations in the region and the world.
He also pointed out several shortcomings, including limited funding for agriculture and rural areas, weak connectivity among farmers and the use of sub-standard fertilisers and animal feed harming production as well as farmers' lives.
The PM praised the VFU's achievements in 2014 and the first quarter of 2015. The union's Central Committee should continue working closely with ministries and agencies to fulfil its assigned tasks, he said.
He said the VFU should partner with the government in achieving common socio-economic goals for 2015, playing a significant role in uniting and encouraging farmers to increase their incomes and build new-style rural areas.
The goal was to increase the output and competitiveness of farm produce by using advanced technology and shifting to crops other than rice, the PM said.