The Prime Minister has asked the Ministry of Transport to halt toll collection at BOT (Build-Operate- Transfer) projects with minimum distance between two tollgates shorter than 70 kilometers.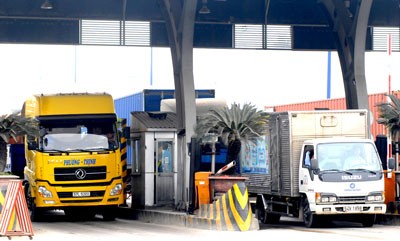 Minimum distance between two BOT toll stations must be 70 kilometers (Illustrative photo: SGGP)
The PM also asked the ministry to outline a BOT toll station plan in highways and submit it to him for approval.
Before the plan is passed, the ministry must halt toll collection at stations violating the distance regulation except those permitted by authorized agencies.
The media has reflected public opinions that BOT toll station positions do not abide by plans and regulations. Many stations have been built nearer than the regulated minimum distance.
Therefore, the Prime Minister has ordered relevant ministries and local authorities to intensify management over road infrastructure projects under BOT form.
The Ministry of Planning and Investment must send the PM a report after reviewing, synthesizing and estimating all BOT road projects by September.