Prime Minister Nguyen Xuan Phuc has halted construction of the US$10.6-billion Hoa Sen Ca Na steel plant in south-central Ninh Thuan Province, while requiring more studies to be completed on the consumer demand and the environmental impact of the plant.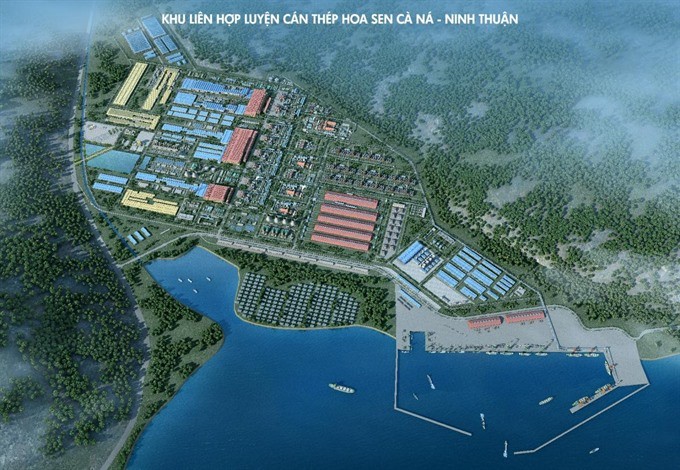 The 3D image of the Hoa Sen Ca Na Steel plant in the south-central province of Ninh Thuan. — Photo hoasengroup.vn
A statement from the Government Office has cited Phúc as saying that the preparations for the project had been too "hasty" and had only provided a preliminary assessment.

Accordingly, he asked the province to clarify the effects on the environment, domestic steel demand, as well as the total investment of the project.

He further said all parties should carefully review the planning of steel plants, material supplies and suitable time and scale for the construction.

In addition, they also need to assess the technology and possible environmental impacts to prevent a disaster similar to the one caused by Taiwan's Formosa, he said, adding that the Ca Na project can proceed if studies prove it is viable.

The project should also clarify how it fits in the overall development of deep seaports, railways and roads.
The PM noted that the project was proposed after the Formosa scandal, thus making it "very sensitive".

Earlier, the public voiced concerns that the project, which will produce about 16 million tons of products per year, might harm the environment.

Also, Vietnamese citizens worried that the project near the sea could bring about damages similar to those caused by Taiwanese steel firm Formosa along the central coast, which resulted in massive fish deaths earlier last year.

The Ca Na construction of the project was expected to be done in five stages between 2017 and 2031. The first stage would begin operation in 2019, take up an area of 240ha, and enable a manufacturing capacity of 1.5 million tons per year. Hoa Sen Group leaders said the company would try to minimize environmental impacts with various measures, including approaches that save materials and optimize production capacity.

Almost 97 per cent of Hoa Sen shareholders approved construction of the mammoth steel plant.
The company, based in the Song Than 2 Industrial Zone in southern Binh Duong Province, reportedly represents 40 per cent of the steel sheet market and 20 per cent of the steel pipe market in Vietnam. It exports products to 65 countries and territories.

Minister of Industry and Trade Tran Tuan Anh said at a meeting with national legislators in November that steel plants will not be built at the cost of the environment. The ministry has included construction of the plant in a national steel development plan for 2025, with a vision toward 2035, despite the project not being officially licensed.