Prime Minister Nguyen Tan Dung has asked international consultants to focus on preserving the tangible and intangible values of Hanoi 's old quarter and developing linkages between the city and other localities while working on a master plan for the city toward 2030.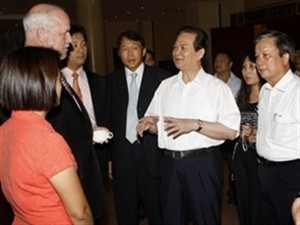 Prime Minister Nguyen Tan Dung (center white shirt) talks with representatives of the international consultancy group PPJ on August 21 in Hanoi (Photo: VNA)
The PM made the request on August 21 after hearing the international consultancy group PPJ's report on the master plan for the capital city through 2030 with a vision for 2050.
The gathering, the second of its kind, was also attended by Deputy PMs Nguyen Sinh Hung and Hoang Trung Hai, and leaders of relevant agencies and Hanoi authorities.
The PPJ introduced the leaders to the third strategy for Hanoi , which combines the advantages of the previous two strategies, to expand the new urban centre to the west of Hanoi and place the national administrative centre to the west of the city centre.
Showing approval for this strategy, PM Dung requested the PPJ to continue refining the master plan for Hanoi to expand the city's space to include a key metropolis which is surrounded by satellite townships such as Hoa Lac, Son Tay, Xuan Mai, Quoc Oai, Phu Xuyen, Dong Anh, Me Linh and Soc Son.
He asked that 30 percent of the city's space be reserved for the development of urban areas and the remaining 70 percent for the city's green belt.
He required the upgrade and preservation of old centres together with tangible cultural sites and intangible values, particularly works located in the old quarter in the process of urban development.
The PM requested the PPJ make clearer, in its upcoming report, its road, railway and waterway infrastructure development plan in order to manage traffic jams and ensure inter-regional linkages for the city.
He also asked the consultancy group to map out a flood drainage plan for the city and provide more details about functional areas, such as the administrative centre, the urban centre and the metropolitan area.
The third hearing on the PPJ's report on Hanoi 's master plan will be in September and October so the final report can be submitted to the National Assembly by the end of this year.