Prime Minister Nguyen Tan Dung yesterday chaired a meeting to review five years of implementation of Resolution No.3 of the 10th tenure of the Vietnam Central Committee, to enhance the Party leadership, tackle corruption and extravagance and discuss the Law on Anti-Corruption.
Attending the meeting chaired by the Prime Minister, who is also Chairman of the Central Steering Committee for anti-corruption, were Nguyen Tan Dung, Le Hong Anh and Deputy Prime Minister Nguyen Xuan Phuc. Mr. Dung, Mr. Anh and Mr. Phuc are also members of the Politburo of the Communist Party of Vietnam Central Committee.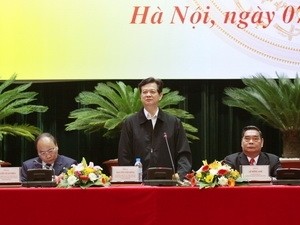 Prime Minister Nguyen Tan Dung at the conference (Photo:VNA)
Other members of the Politburo and leaders of socio-political organisations and State-owned groups also participated in the meeting.
The report read by Deputy PM Nguyen Xuan Phuc showed the weaknesses of the anti-corruption efforts during the past five years. He remarked that anti-corruption has not been mentioned in conferences and meetings of Party organisations at all levels. Some steering committees of provinces and cities' for anti-corruption were not paying enough attention to their tasks. The number of cases brought to light did not reflect the real scale of the problem, and it usually took a longer time to deal with these cases compared to other crimes.
The evil practice of offering bribes to gain positions and power still existed and caused anger among a circle of people.
The norm to resign from positions is still strange to most officials. The task of declaring assets is still done perfunctorily.
The Vice PM said that during the implementation of the Resolution, over the past 5 years, nearly 652 Party officials had been punished for violations.
The meeting also heard that studying and implementing the Resolution in some localities was yet to achieve positive results.
Speaking at the meeting, PM Nguyen Tan Dung stressed the role of preventing and fighting corruption, and urged relevant authorities to formulate anti-corruption measures for the future.
He said this was a major and urgent issue, stressing the determination of the Party, the State and the whole society to fight corruption.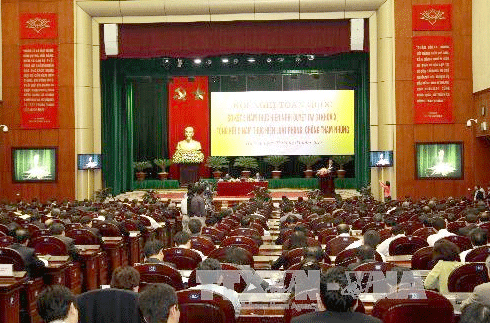 Panorama of the conference (Photo:CPV website)
The PM highlighted that the Resolution of the Party Central Committee's fourth session on urgent issues in Party building affirmed preventing degradation in political ideology, thought, morality and lifestyle of Party members as a key task.
He also urged participants of the meeting to continue reviewing and look into details of the strengths and weaknesses of the implementation of the Resolution and Law related to anti-corruption over the past five years, in order to work out more effective measures.
The meeting showed that Party members and people highly valued and agreed with the Resolution and its measures to prevent and fight corruption. Adopting and implementing the Resolution and the Law relating to anti-corruption had strengthened the people's confidence in the Party and State and had been highly appreciated by all.