Prime Minister Nguyen Tan Dung attended a ceremony on September 21 to inaugurate the Noi Bai-Lao Cai Highway, the longest and most modern of its kind in Vietnam.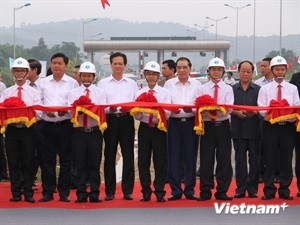 PM Nguyen Tan Dung at the ceremony (photo:VNA)
Integral to the Kunming-Lao Cai-Hanoi-Hai Phong road corridor, the highway is part of a cooperation project between the six countries of the Mekong Subregion, namely Vietnam, Laos, Cambodia, Thailand, Myanmar and China.
The 245-kilometre road connects Hanoi and the northern provinces of Vinh Phuc, Phu Tho, Yen Bai and Lao Cai. Its construction started in 2009 with a first-phase investment of more than 1.5 billion USD.
The highway comprises four lanes with a speed limit of 120kph, shortening travel times between Hanoi and Lao Cai from 7 hours at present to only 3.5 hours.
Speaking at the inauguration ceremony in Gia Phu commune, Bao Thang district in Lao Cai province , PM Dung said the Noi Bai-Lao Cai highway was of great significance for socio-economic development, security and defence, not just for north-western localities but also the Greater Mekong Subregion.
He hailed the efforts made by the Ministry of Transport, relevant agencies, localities, engineers and workers to complete the work in five years.
He called upon localities adjacent to the highway to devise plans to make full use of the road and support socio-economic development in the region.
As part of his visit to Lao Cai, PM Dung also participated in ceremonies to inaugurate the Lao Cai Cast Iron and Steel Plant and the Duc Giang Lao Cai Chemicals Complex, both in the Tang Loong Industrial Zone in Bao Thang dictrict.