Prime Minister Nguyen Tan Dung has asked the northern mountainous province of Lai Chau to be well prepared for the resettlement of local people who have given their land for the Lai Chau hydropower plant, a key national project.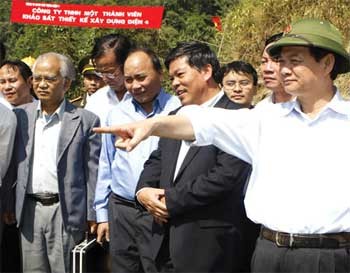 PM Nguyen Tan Dung (R) inspects the site of a proposed hydropower plant in the northern province of Lai Chau (Photo: SGGP)
It is estimated that more than 10,000 people will need to relocate into new homes to clear land for the construction of the Lai Chau power plant, which is the last in a series of hydropower plants, namely Hoa Binh, Son La, Huoi Quang, Ban Chat, Nam Chien and Nam Na, as part of a national plan to generate electricity from the Da River.
"The Lai Chau plant will not only supply a large output of electricity to the national power grid but also help promote socio-economic development, effectuate a much needed shift in economic priorities, as well as restructure population and production in Lai Chau province and throughout the northwest," said PM Dung on November 4 during his fact-finding tour of the construction site of the power plant.
Though the project is waiting for the National Assembly's approval at its current meeting, the preparation of paperwork is still underway so construction can begin in late 2010 as scheduled.
At a working session with leaders of relevant ministries and sectors during the tour, PM Dung agreed to use the construction team building the Son La hydropower plant for the construction of the Lai Chau plant.
The plant, which is designed to have two turbine groups with a total capacity of 1,200 MW, will be built at Nam Hang commune, Muong Te district, which is one of the country's poorest.
A reservoir capable of storing up to 1.2 billion cu.m of water will be created to serve the plant, which is expected to generate more than 4.7 billion kWh a year.
Investment capital for the plant is estimated at VND32 trillion.
Lai Chau province plans to build 34 resettlement sites for local people currently living in the construction site of the plant and is working on a project to plant 10,000 ha of rubber to enable those people to shift to a new production model.