Prime Minister Nguyen Tan Dung ordered relevant agencies to immediately implement the Government's rice stockpiling program on March 15 at a conference in the Mekong Delta.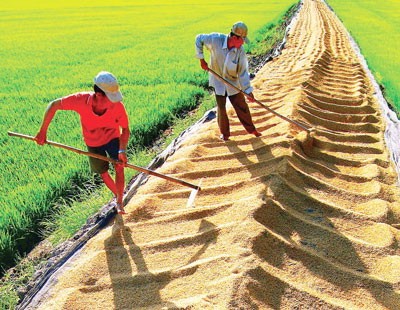 Farmers dry newly harvested rice in Dong Thap Province (Photo: SGGP)
The Mekong Delta has 1.6 million hectares of winter spring rice, said Minister of Agriculture and Rural Development Cao Duc Phat. The rice output is estimated to reach 11.5 million tons. About 7.57 million tons will be harvested in March and April. 

The volume of rice for consumption will be over nine million tons.
Cost price of winter spring rice averages VND3,769 a kilogram, an increase of VND247 since the last crop.

The highest price is in Ben Tre Province, followed by Hau Giang and An Giang Province.
A kilogram of fresh rice now fetches VND4,200-5,200 and dry rice fetches VND5,200-6,200. These rates ensure an acceptable profit margin for farmers. However the rice price has dropped VND600 a kilogram since early March concerning local farmers and authorities.

It is likely to reduce further because Thai farmers are trying to clear their stocks, said Truong Thanh Phong, chairman of the Vietnam Food Association.

Prime Minister Dung instructed banks to loan businesses to stockpile rice in six months with the preferential interest rate of 7 percent a year for the first four months.

He ordered the Ministry of Industry and Trade to take more action in search for more markets. Export businesses should link together for better rice consumption.

The Ministry and Agriculture and Rural Development is preparing to convert 110,000 hectares of summer autumn rice into other plants to reduce pressure for rice consumption, said Minister Phat. They are working on projects that study the best plants and farming technologies in the converted areas.