Prime Minister Nguyễn Xuân Phúc has emphasised connections as a major focus of the Asia-Europe Meeting (ASEM) during the 11th ASEM Summit that opened in Ulan Bator, Mongolia, yesterday.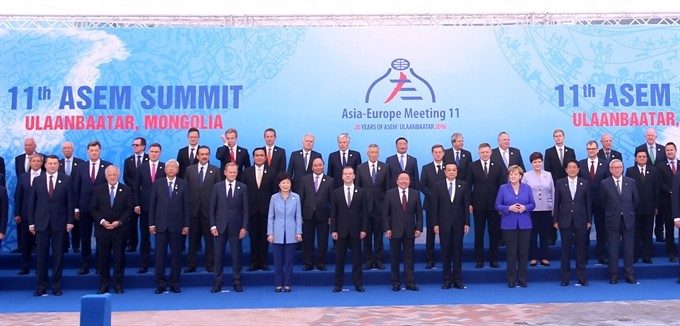 Prime Minister Nguyễn Xuân Phúc (centre, second row) and other Asian and European leaders at the Asia-Europe Meeting (ASEM) in Ulaan Baator, Mongolia. — VNA/VNS Photo Thống Nhất
He underlined the need for ASEM countries to take advantage of opportunities for partnership and connectivity in the digital era, as well as the new waves of international trade and investment and the fourth industrial revolution.

ASEM countries should focus on investing in infrastructure projects, increasing trade and financial exchanges, and developing information technology and human resources, he said.

Meanwhile, the forum should continue fortifying regional and sub-regional links, including the Mekong-Danube co-operation, to narrow the development gap between countries and enhance the capacity of developing members, which will strengthen people-to-people contacts within the Asia-Europe Foundation.

He noted that over the past two decades, ASEM had carried out its strategic vision for international co-operation and connection, and has become a bridge linking countries, civilisations, businesses and the people of Asia and Europe.

The PM suggested that the forum rejuvenate and enhance the effectiveness of partnerships towards a new level in the world, in terms of dialogue and co-operation in the 21st century, contributing to peace, stability, security and sustainable development on both continents and the world.

Meanwhile, ASEM dialogue and cooperation should be closely geared towards sustainable development goals, especially the targets of poverty reduction, ensuring social welfare and the response to global challenges, he said.

The PM pointed to an immediate priority of joining hands in international efforts to realise the 2030 Agenda of Sustainable Development Goals, the Paris Agreement and Sendai Framework of Disaster Risk Reduction, as well as the continuity of implementing the ASEM dialogue on sustainable development, which are key solutions to motivate the effectiveness of the partnerships.

ASEM should also design specific programmes and projects to speed up the operation of professional co-operation groups on education and human resources development, natural disaster response and sustainable management of water resources, he said.

He also highlighted the need to strengthen efforts to engage the youth and businesses, especially small- and medium-sized firms and startups in ASEM, to initiate and implement new ideas to improve the self-reliance and benefits of people on both continents.

He also pledged that Việt Nam would work hard in joint efforts to elevate ASEM co-operation and foster partnerships and affiliation mechanisms among Asian-European economies through the ASEAN Community, as well as the existing bilateral and multilateral partnership mechanisms.

He lauded ASEM members' support for Việt Nam's initiative on creative education and human resource building for sustainable development in 2017, which was launched during the 11th ASEM Summit.
Later the same day, PM Phúc and other ASEM leaders joined Mongolia's Naadam Festival, which was recognised by UNESCO as an intangible cultural heritage.
Sideline meetings
Also yesterday, Prime Minister Phuc had bilateral meetings with leaders of Asian and European countries on the sidelines of the 11th ASEM Summit .
At a meeting with his Finnish counterpart, Juha Sipila, Phuc said he appreciated Finland's policies to encourage its enterprises to increase investment and business in Viet Nam.
He pledged to create more favourable conditions for Finnish investors in the fields where Finland has an advantage and Viet Nam has a demand like green technology, renewable energy and education.
He asked Finland to continue its ODA to Viet Nam, particularly for environmental, climate change and institutional improvement projects, and to help Viet Nam access loans from the International Development Association (IDA) – a World Bank fund – beyond 2017.
The Finnish PM agreed to intensify co-operation with Viet Nam in the areas of energy, information technology, and education and training.
While meeting Swiss President Johann Schneider-Ammann, the Vietnamese Government leader suggested both sides co-ordinate to organise activities to celebrate the 45th anniversary of diplomatic ties.
President Johann Schneider-Ammann confirmed that Viet Nam continually remains a priority in Switzerland's ODA policy, while agreeing on the early completion of negotiations on a free trade agreement between Viet Nam and the European Free Trade Association (EFTA).
He vowed to provide Viet Nam with preferential treatments similar to those for Singapore, Malaysia and the Philippines.
PM Phuc also had a meeting with his Singaporean counterpart, Lee Hsien Loong, during which they discussed measures to boost the two countries' strategic partnership and exchanged notes on regional and international issues of mutual concern.
He invited his Singaporean counterpart to attend the 20th founding anniversary of the Viet Nam-Singapore Industrial Park (VSIP) in Binh Duong in mid-September, saying that the latter's presence at the event would be significant for bilateral relations.
Talking to Thai Prime Minister Prayut Chan-o-cha, PM Phuc spoke highly of the diverse business activities of Thai enterprises in Viet Nam.
PM Chan-o-cha, in turn, committed to encouraging Thailand's major companies to intensify their investment in Viet Nam while paying attention to Viet Nam's interests.
They agreed to step up joint governmental meetings to discuss specific co-operative measures.
In addition, PM Phuc and President of the Republic of Korea Park Geun-hye reached a consensus on intensifying the two countries' trade and economic ties, seeking measures to ensure a trade balance by reducing Viet Nam's trade deficit and encouraging more Korean businesses to invest in Viet Nam in the fields of high technology, energy and transport.
The Korean leader stated that as Viet Nam is the country's leading development partner, Korea will share its experiences with Viet Nam in developing new-style rural areas and help Viet Nam organise the Asia-Pacific Economic Cooperation (APEC) year in 2017.
They agreed to discuss and sign a Viet Nam-Korea framework credit agreement for 2016-20, and increase the ODA provision for projects on green growth and climate change response.
At a meeting with his German counterpart, Angela Merkel, PM Phuc expressed his hope that German investors would prepare for opportunities brought by the pending Viet Nam-EU free trade agreement (EVFTA).
Chancellor Merkel lauded the Vietnamese Government's facilitation of the Viet Nam-Germany University, and expressed hopes for intensified co-operation in education and training.
Talking to Malta Prime Minister Joseph Muscat, the Vietnamese leader affirmed that Viet Nam treasures and wishes to further strengthen its relations with EU nations, including Malta.
He stated that although the two countries set up their diplomatic ties more than 40 years ago, their economic and trade co-operation has yet to meet the two countries' potential and needs to be boosted further.
Both PMs agreed to create favourable conditions for the two countries' enterprises to intensify co-operation in the fields of finance, banking, insurance, logistics and maritime transportation.
The two PMs then witnessed the signing of an agreement on the avoidance of double taxation and the prevention of income tax evasion between the two Governments.
At a meeting with his Polish counterpart, Phuc lauded the country's improved position in the European Union and in the world, and its contributions to ASEM efforts to address global challenges.
He said Viet Nam welcomes Poland's efforts to boost connections between the EU and ASEAN, as well as to support sub-region co-operation projects, particularly the Mekong-Danube collaboration.
PM Phuc thanked the Polish Government for the favourable conditions Vietnamese expatriates have received while living in the country, adding his hope that the support will continue in the long-term.
Viet Nam is committed to the efficient use of a 250 million euro credit packet funded by Poland, the Vietnamese PM noted.
Dutch Prime Minister Mark Rutte said the Netherlands supports Viet Nam's access to loans from the IDA after 2017.
Phuc said he is pleased with the signing of bilateral strategic partnership agreements on climate change response, water management, agriculture and food security.
He added that Viet Nam is willing to assist Dutch enterprises to invest in the sectors of shipbuilding, energy and logistic services in Viet Nam. The authority support will also come to the development of judicial co-operation and in building relationships between the two countries' localities.
The two PMs agreed to convert the outlook and recommendations of the Cöûu Long (Mekong) Delta Programme into specific measures.
At another meeting, PM Phuc and Indian Vice President Mohammad Ansari expressed their wish to deepen bilateral ties following the impressive progress of the two countries' strategic partnership.
Conversing with New Zealand Minister of Foreign Affairs Murray McCully, Phuc proposed that New Zealand facilitate the completion of administrative procedures that will open more opportunities for Vietnamese fruit to enter their market.
McCully said New Zealand will support Viet Nam in organising the 2017 APEC Summit and invited the Vietnamese PM to visit his country soon.
PM Phuc also had a brief conversation with European Commission president Jean-Claude Juncker, in which both sides were pleased with the growing ties between Viet Nam and the EU.
On July 15, PM Phuc met with his Japanese counterpart, Shinzo Abe, and congratulated him on the victory of his Liberal Democratic Party in the recent parliamentary election.
Viet Nam looks to Japan's support for its access to IDA loans, PM Phuc noted.
Abe said Japan highly values its partnership with Viet Nam and will implement agreements secured by both sides in the recent visit of the Vietnamese PM to Japan.
At these meetings, leaders of ASEM countries said they support the peaceful settlement of disputes in the East Sea in line with international law, including the 1982 United Nations Convention on the Law of the Sea (UNCLOS), for freedom, security and safety of navigation and overflight in the waters.
Earlier on Thursday, Phúc had a meeting with his Lao counterpart Thongloun Sisoulith during which the two reached a high consensus on the work to continue cementing, maintaining and ratcheting up special solidarity and comprehensive co-operation between the two countries during their meeting in Ulan Bator, Mongolia.
PM said Việt Nam would work together with Laos in unblocking obstacles facing Vietnamese investment projects in Laos so they can quickly work to aid the host country's national development.
He also proposed relevant ministries and agencies of the two countries discuss a plan to encourage Japan's participation in the building of the Vientiane-Thanh Thủy-Hà Nội Expressway.
PM Sisoulith assured that the Lao government would work together with the Vietnamese counterpart to ensure Vietnamese-invested projects in Laos would be carried out efficiently.
While speaking highly of Laos' role as the Chair of ASEAN in 2016, PM Phúc expressed his hope that the two countries would collaborate closely with each other and with other ASEAN member states to ensure ASEAN has a single voice in regional issues, especially the East Sea issue.
On the occasion, PM Sisoulith invited PM Phúc to visit Laos. As the invitation was happily accepted, both sides will arrange the visit at a convenient time.
Ministerial meetings
Deputy Prime Minister and Foreign Minister Pham Binh Minh met with the foreign ministers of France, Italy and Ireland and the Swedish minister of education yesterday within the framework of the 11th ASEM Summit.
Receiving French Minister of Foreign Affairs and International Development Jean-Marc Ayrault, Minh extended profound condolences to the French Government and people, and the families of victims of the terrorist attack in Nice on Thursday.
Viet Nam appreciates the French Parliament's ratification of the Viet Nam-EU Partnership and Cooperation Agreement (PCA) and wishes that France will support the early signing and ratification of the EU-Viet Nam Free Trade Agreement, Deputy PM Minh said.
Jean-Marc Ayrault stated that French President Francois Holland will visit Viet Nam in September, adding that this visit will help intensify the two countries' strategic partnership in all fields, especially in economics.
The Vietnamese Deputy PM affirmed that the Government is willing to facilitate France's investment in high technology, infrastructure, energy, transport, aviation, health, agriculture and the environment.
He asked France to maintain its ODA provision for Viet Nam and help Viet Nam gain access to loans from the World Bank's IDA beyond 2017.
Talking to Italian Foreign Minister Paolo Gentiloni, Minh stated that Viet Nam will create more favourable conditions for Italian enterprises to expand their investment in the fields of manufacturing, garment and textiles, footwear, wood processing, the support industry, construction materials, energy and food processing.
The two sides also exchanged views on regional and international issues of mutual concern, including the East Sea issue.
At his meeting with Swedish Minister of Education Gustav Fridolin, Minh welcomed the Swedish Prime Minister's proposal on the establishment of a strategic partnership in education-training and science-technology.
He suggested Sweden support Viet Nam's access to IDA loans as well as the World Bank's building of a suitable repayment plan to help Viet Nam have a sustainable repayment capacity.
Meanwhile, at the meeting with Irish Foreign Minister Charlie Flanagan, Minh welcomed the Irish President's visit to Viet Nam slated for late 2016 on the occasion of the 20th anniversary of bilateral diplomatic ties.
He spoke highly of the National Strategy on Development Cooperation with Viet Nam in the 2011-15 period initiated by the Irish Government, adding that he is willing to co-operate with Ireland in building and implementing the strategy for the next five years.
The Irish minister expressed his hope that the two countries will intensify co-operation in the potential areas of culture, education and agriculture, and that Viet Nam will help Ireland expand its exports to the country and Southeast Asia.