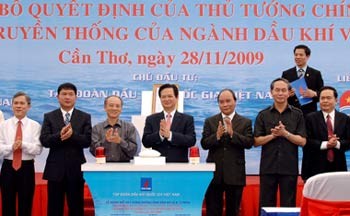 The breaking ground ceremony on November 28 in Can Tho City. (Photo: SGGP)
Prime Minister Nguyen Tan Dung gave orders November 28 to begin construction on a pipeline to bring gas off the country's southwestern coast to the Mekong Delta city of Can Tho.
The US$1 billion lot B-O Mon gas pipeline will have a total length of nearly 400 km, with 246 km at sea and 152 km on land. The pipe will cross through O Mon District in Can Tho city and four other Mekong Delta provinces including Hau Giang, Kien Giang, Bac Lieu and Ca Mau, according to the Vietnam Oil and Gas Group.
Once completed, the pipeline will be capable of transporting 18.3 million cu.m of gas a day (or 6.4 billion cu.m/year), to the O Mon and Tra Noc Power Stations. It will have a combined capacity of 3,000 MW in Can Tho and a 750 MW thermoelectric power plant in Ca Mau province.
Speaking at the launch, PM Dung highlighted the pipeline's profound significance to the Mekong Delta in particular and the country in general as it will ensure energy security for the nation and pave the way for a national gas pipeline system to link Southeast Asia.