The Prime Minister has issued a plan on strategy of natural resource sustainable exploitation and marine environment protection by 2020 with vision till 2030.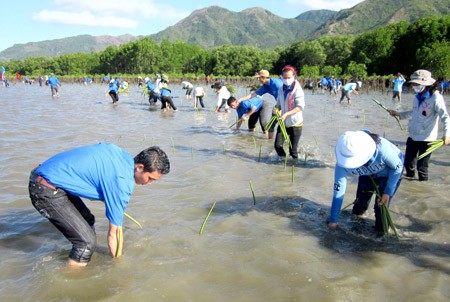 Mangrove afforestation has been extended to protect marine environment in Vietnam (Photo: SGGP)
According to the plan, authorized agencies will carry out programs and plans to manage waste, control discharge sources on land and at sea.
Inspection on environmental protection will be intensified to activities that have polluted and threatened marine environment. Those on the focus of the inspection include urban areas, industrial parks, export processing zones, seafood farming and processing establishments, commerce and tourism along the coastline and in islands.
In addition, inspectors will list and strictly handle those heavily polluting the marine environment and observe environment and natural resources in Vietnam's waters.
The ability of forecasting natural disasters, climate change, sea level rise and salt penetration will be improved for socioeconomic development in coastal areas and islands.
Of these, the Government will give priority to building of marine environment and resources observation stations in the Mekong Delta to estimate impacts of climate change especially salt intrusion. They will also fully estimate changes and influences of El Nino and La Nina phenomenon in these areas in order to have efficient mitigation measures.