Prime Minister Nguyen Tan Dung left Hanoi for Thailand on July 23 for an official visit and to attend the third Vietnam-Thailand Joint Cabinet meeting at the invitation of his Thai counterpart Prayut Chan-o-cha.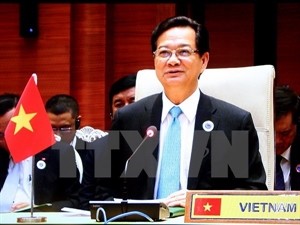 Prime Minister Nguyen Tan Dung (Source: VNA)
He was accompanied by Deputy Prime Minister and Foreign Minister Pham Binh Minh, Deputy Prime Minister Vu Duc Dam, several ministers and leaders of a number of provinces.
The visit is to foster the bilateral strategic partnership across politics, national defence-security, economics, trade, investment and labour as well as boost affiliation at regional and sub-regional cooperative mechanisms.
Since the two countries established diplomatic ties on August 6, 1976, the relationship has developed comprehensively. In 2013, during Party General Secretary Nguyen Phu Trong's visit to Thailand, it was upgraded to a strategic partnership. Vietnam and Thailand already signed an action plan to implement the Vietnam-Thailand strategic partnership from 2014-2018 in all cooperation fields.
The two countries signed a memorandum of understanding on defence cooperation during the Thai Defence Minister Prawit Wongsuwon's visit to Vietnam and shared experience in fighting transnational crime, drug crime, hi-tech crime and human trafficking.
In addition, Vietnam and Thailand also stepped up cooperation in education-training and culture. Thailand made it possible for Vietnam to build two monuments commemorating President Ho Chi Minh in U Don Thani and Nakhon Phanom provinces.
They increased cooperation in developing the East-West economic corridor, opened air routes between the two countries and are negotiating bus routes connecting the two countries via Laos and Cambodia.
The two countries agreed to extend cooperation in agriculture-forestry-fishery and science-technology.
Trade between the two countries reached 10.6 billion USD in 2014 and 4.35 billion USD in the first five months of 2015. As of June 2015, Thailand has been ranked the 10th largest investor among 101 territories and countries investing in Vietnam, with 392 valid projects and a combined registered investment capital of 6.8 billion USD.-VNA