Prime Minister Nguyen Tan Dung held two meetings with Ho Chi Minh City and Hanoi leaders on December 18 and 19 to discuss solutions to resolve problems ailing the real estate sector and ways to tackle bad debts of banks.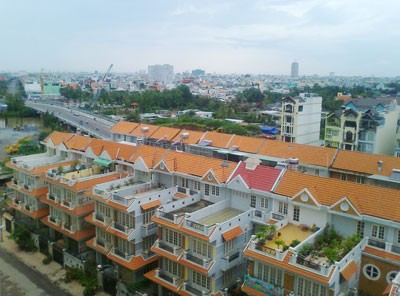 A property is seen being built in District 8, Ho Chi Minh City (Photo: Nha Tran)
The outstanding loans to the real estate sector currently stand at VND85 trillion (US$4.09 billion), accounting for 10.6 percent of the City's total outstanding loans, according to the Central Bank branch in HCMC. Bad debts in this sector are around VND4 trillion ($191,920,000), accounting for 6.27 percent of the sector's total outstanding loans.
There are some 14,000 unsold apartments in housing projects across the City, valued at VND24.5 trillion ($1,175,510,000), according to a report sent to the Prime Minister by the People's Committee.
Investors incurred exorbitant interest rates of more than 20 percent a year, while 70 percent of the investments are sourced from bank loans resulting in the fact that investors have to sell at exorbitant prices, starting from VND25 million a square meter.
The HCMC People's Committee has petitioned the Central Bank to assist house buyers with bank loans to help defreeze the market.
Speaking at a working session, Governor Nguyen Van Binh said that the State Bank of Vietnam is willing to assist house buyers with monetary aid to help ease the market. The Central Bank will allocate around VND40 trillion in preferential loans at only 7 to 8 percent interest per year for a five year term.
The VND40 trillion is only for genuine house buyers rather than construction companies. The Central Bank will provide loans to all commercial banks at low interest rates which have offered affordable loans to house buyers, Binh promised.
Binh also said that to deal with bad debts of VND150 trillion, by pumping money into the banking system to secure liquidity of banks and credit institutions who can use it as capital for continuing business.
Basically, Prime Minister agreed with HCMC People's Committee proposals, saying that the government will discuss the problem at the working session in December and there will be a decree on countermeasures to resolve barriers in the sector.
He advised HCMC to restructure the real estate sector by removing weak and ineffective players and providing housing to meet real demand. His message was that real estate plays an important role in the country's economy as it is connected with other sectors such as construction materials, decoration, steel production and electricity and a large labor force.
Prime Minister Nguyen Tan Dung also attended the meeting with Hanoi leaders, where he was apprised of solutions to resolve the real estate crisis and bad debt problem. Apartment inventory is staggering at 5,789; more than 3,483 villas and around 330 houses for low-income people. Outstanding loans granted to this sector currently account to 13 percent of the City's total outstanding loans, according to the Central Bank branch in Hanoi.
Hanoi leaders assessed that the supply of luxury and commercial condos exceeds demand at present and this situation is apt to continue for a long time, while low-income people are in greater need to have a house of their own.
Nguyen The Thao, chairman of Hanoi People's Committee, said the frozen market in real estate in recent years is because of rapid development in a period of economic decline and reduced purchasing power. In addition, financial and credit policies for real estate are yet not complete.
The hike in house prices was due to speculation, while the State's role in regulating the market has not been fully deployed, Thao said.
Hanoi introduced six resolutions to rescue the sector including finishing the housing developing program until 2020, especially making state-run staff and low-income people as top priority. The government should create favorable conditions in which genuine house buyers can access housing support fund and credit loans at low interest rates as well as support enterprises who convert commercial apartments into houses for resettlement, rental condos and people on business missions.
Minister of Construction Trinh Dinh Dung said there are differences between HCMC and Hanoi property markets. Hanoi has slower market freeze, fewer but larger scale projects while enterprises are not as professional as their counterparts in HCMC.
To remove difficulties, he suggested Hanoi should review housing and new urban area development plans, categorize housing and property projects, and halt developments that do not have a cleared site or match locality building plans.
The City should adjust the structure of unsold apartments and incomplete projects to meet people's demand and budget, he added. Moreover, a mission team should be set up to remove barriers in the sector.
Finance Minister Vuong Dinh Hue called for transparency in real estate to re-gain customer credibility. For instance, the City should publicize openly the name, price per meter, progress and policies for condo projects.
Prime Minister Nguyen Tan Dung advised Hanoi to mobilize resources to develop social housing and housing for people who rendered services to the country, as well as workers, students and civil servants. A credit package with preferential interest rate of only 4 to 5 percent a year should be introduced to support low-income people.