Prime Minister Nguyen Tan Dung met with Kuwaiti Emir Sabah Al-Ahmad Al-Jaber Al-Sabah on March 11 at Bayan Palace, during his three-day official visit to Kuwait.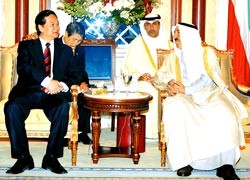 Prime Minister Nguyen Tan Dung meets with Kuwaiti Emir Al-Ahmad Al-jaber Al-sabah (Photo SGGP)
At the meeting, the PM praised the highly successful economy and social development under the leadership of Emir Al-sabah, and bringing Kuwait to stronger position and role in the region and the world.
The PM stressed that Vietnam and Kuwait has a tradition of friendly relationships and cooperation in all fields, particularly economics and investment, which have developed positively.
Vietnam has appreciated the development of corporate relations with the Gulf States, particularly Kuwait, which is fast becoming an important partner for Vietnam in Middle East.
On the same day, Prime Minister Dung also met with the Speaker of the National Assembly of Kuwait, Jassem Al Kharafi, and visited the Vietnam Embassy.
He wished the National Assembly and Mr. Kharafi boost multifaceted cooperation particularly in investment, trade, energy and agriculture, between Vietnam and Kuwait. However, Dung said that bilateral economic, trade and investment cooperation remains at a modest level and yet to live up to potential and expectations of the two countries.
The PM also attended a Vietnam-Kuwait business forum and met with top investment corporations in Kuwait.
At the forum, he announced investment opportunities and economic development in Vietnam. He also called for Kuwaiti investors to strengthen investment in fields that possess potential for further development, including real estate, infrastructure construction, oil and gas, fertilizers, chemicals, tourism, agriculture, finance and banking, and labor. 
PM Dung told 200 business representatives that the Vietnamese government will strive to create the most favorable conditions regarding mechanisms and policies for Kuwaiti investors to conduct long-term, successful business in Vietnam.