Prime Minister Nguyen Tan Dung arrived in Brussels on October 12, beginning his official visit to Belgium at the invitation of his Belgian counterpart Elio Di Rupo.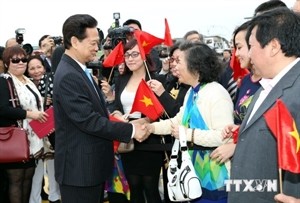 The Vietnamese community welcomes the PM in Brussels (Photo: VNA)
The PM's visit to Belgium is aimed at fostering bilateral all-round cooperation, particularly in sea port, logistics, green growth, high technology, and development assistance.
The two sides will also exchange views on regional and international issues of mutual concern.
Over the past years, the Vietnamese-Belgian relations have seen good progress in various fields, as evidenced by the exchange of high-level delegations and close coordination at multilateral forums, especially at the United Nations and within the framework of the Asia-Europe Meeting and ASEAN-European Union (EU) cooperation.
Bilateral trade increased rapidly, reaching 1.2 billion USD in 2010 from 395.4 million USD in 2000. The figure hit 1.8 billion USD last year, up 17 percent year on year, and 1.3 billion USD in the first seven months of this year.
Belgium is now the sixth largest export market of Vietnam among EU members, consuming mainly footwear, apparels, seafood, coffee, handbags, plastics and rubber. Meanwhile, Vietnam imports from the European country machines and spare parts, steel, chemicals and pharmaceuticals.
By August this year, Belgium has 15 projects totalling 155 million USD in Vietnam, ranking 35th among 96 countries and territories investing here.
Vietnam is also the only Asian country to receive official development assistance from Belgium with about 78 million USD for the 2011-15 period.