Prime Minister Nguyen Tan Dung called upon businessmen in the United Arab Emirates (UAE) to increase their investments in Vietnam and pledged to back their long-term business by creating a host of favourable mechanisms and policies.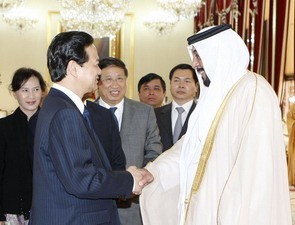 Vietnam's PM Ngueyn Tan Dung shakes hands with UAE Vice President and PM Sheikh Mohammed bin Rashid. (Photo: VNA)
Speaking at the Vietnam-UAE Business Forum in Dubai on Feb. 17, the PM identified the construction of expressways, airports, and seaports, the oil and gas industry, tourism, agriculture, financial services, banking and labour as areas earmarked by his country for foreign investment.
He praised the Vietnam Chamber of Commerce and Industry and its Dubai counterpart for their coordinated efforts in organising the forum, which brought together as many as 400 businesspeople to exchange information and seek deals and investment opportunities.
The PM noted that Vietnam and UAE are currently experiencing an increase in their cooperation, especially in the areas of trade and investment. He cited statistics to back up this statement, such as two-way trade between the two countries soaring from US$67 million in 2002 to US$550 million in 2008 and the fact that UAE is currently one of Vietnam's 25 biggest export markets and is expected to break into the country's top ten export markets in the future.
UAE investors are responsible for numerous projects in Vietnam, including the construction of a new urban area in Phu Yen province, a tourist resort in Hoi An town, an urban area and a five-star hotel in Ha Long city, and a sheep-breeding programme in Ninh Thuan province.
Whilst highlighting the strength of their bilateral economic ties, PM Nguyen Tan Dung pointed out that these ties remain modest compared with the potential offered by the two countries, and fail to meet the aspirations of their governments and people.
He said he hoped that a series of agreements signed during his visit would provide the momentum to raise the Vietnam-UAE ties to new heights.
On the same day, the PM visited the Jebel Ali port and worked with the Limitless company, where he witnessed the signing of an agreement between Limitless and the Quang Ninh provincial authorities, regarding an increase in investment capital for the Ha Long Star project from US$220 million to US$550 million and the planning of an industrial complex in the province.