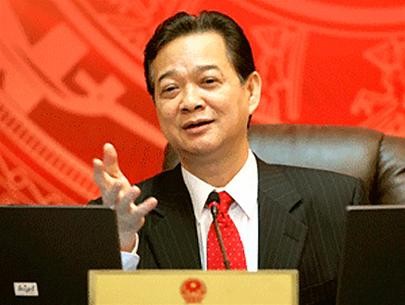 PM Nguyen Tan Dung
Mr. Nguyen Tan Dung was re-elected Prime Minister this morning by the National Assembly.
He was re-elected to his post with 96.96 percent of votes at the National Assembly (NA) sitting.
Nguyen Tan Dung, born 1949, was elected as Prime Minister at the 11th National Assembly's mid-term (June 2006) and is the youngest person to head the cabinet over the last two decades.
Nguyen Thi Doan, vice chairwoman of the Central Inspection Committee, was chosen Vice President of State.
New faces took over as Chief Judge of the People's Supreme Court and Director of the People's Supreme Procuracy.
In May, UK-based World Business magazine ranked Viet Nam's Prime Minister fifth among the top 20 reformers in the region.
The magazine said that, after his appointment, PM Dung had given priority to fighting corruption and developing the Vietnamese economy in a sustainable way.
Other foreign media said PM Nguyen Tan Dung was driving Viet Nam toward a market economy and helping the country become more dynamic in the global arena.