At the invitation of Samdech Akka Moha Sena Padei Techo Hun Sen, Prime Minister of the Kingdom of Cambodia, the Vietnam high ranking delegation, led by Prime Minister Nguyen Tan Dung arrives to Cambodia this morning, beginning the two day friendly visit to Cambodia.
Hochiminh city Party Secretary Le Thanh Hai, Defense Deputy Minister Nguyen Chi Vinh, Public Security Deputy Minister Bui Van Nam …are among the high officials in the delegation.
According to schedule, the VN PM is co-chairing a two-day Viet Nam-Cambodia investment promotion conference expected to boost bilateral trade and investment ties.
The Prime Minister is also scheduled to attend the opening ceremony of the Cambodia-Viet Nam Securities Joint Stock Co and witness the handover of overseas investment licences to Vietnamese businesses.
Around 100 Vietnamese businesses are slated to be represented at the second annual investment conference opening today, where both sides are also expected to sign a number of new deals, review investment co-operation results since the first conference, and discuss measures to boost co-operation in investment, trade and tourism.
Bilateral trade has increased from US$1.33 billion in 2009 to $1.8 billion in 2010. Viet Nam has almost 90 investment projects in Cambodia with a combined capital of more than $2 billion. These projects include rubber plantations, mining, oil and gas exploration, electrical development, telecommunications, and finance and banking. The two countries have also shown a keen interest in promoting bilateral ties in education and training, healthcare and transportation.
Leaders of both Viet Nam and Cambodia have also affirmed their determination to complete land border demarcation and border-marker erection in 2012 in order to build a common border of peace, stability and development in line with the traditions and customs of both peoples. The two nations have successfully held a conference on the development and co-operation of the Cambodia-Viet Nam border provinces at the deputy prime minister-level and a Viet Nam-Cambodia border trade development conference at the level of trade ministers.
Both countries have also stepped up bilateral co-operation between border provinces in education, healthcare, culture, and science and technology.
The relationship between Viet Nam and Cambodia has developed in various fields since the establishment of diplomatic ties in 1967. Bilateral co-operation mechanisms including the Viet Nam-Cambodia Joint Commission for Economic, Cultural, Scientific and Technological Co-operation, the conference on the development and co-operation of border provinces and the joint border committee meet annually and have brought practical results.
The two nations have also worked closely within the framework of regional and international institutions such as the Mekong River Commission, the Greater Mekong Sub-region, the Ayeyawady-Chao Praya-Mekong Economic Co-operation Strategy, and the Cambodia-Laos-Viet Nam Development Triangle.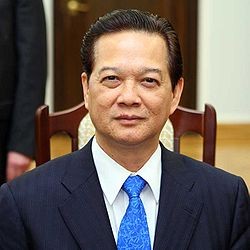 Prime Minister Nguyen Tan Dung
PM Dung's visit to Cambodia aims to affirm Viet Nam's consistent policy of attaching importance to enhancing its relations with Cambodia and the determination of the Vietnamese Government and people to join the Cambodian Government and people in bringing bilateral ties to a new height for mutual interest.
The regular exchange of delegations between the two countries have helped secure a fine neighbour relationship and tradition of friendship, as well as long-term, sustainable and comprehensive co-operation between the two countries.