A high-ranking Vietnamese delegation led by PM Nguyen Tan Dung and his wife arrived in Kolkata City yesterday, beginning an official visit to India at the invitation of his counterpart Manmohan Singh and his wife.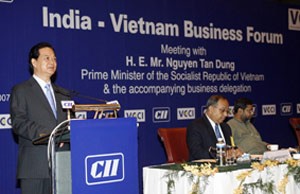 Prime Minister Nguyen Tan Dung speaks at the India-Vietnam Business Forum in West Bengal yesterday

Speaking at a meeting with West Bengal Governor Budhatdev Bhattcharya, PM Dung stressed that Viet Nam always welcomes Indian corporations, especially those specialized in information technology and steel production, sectors in which India is powerful.

After the meeting, PM Dung and the high-ranking Vietnamese delegation attended the India-Vietnam business forum that drew the participation of 300 Indian companies and 100 Vietnamese business executives accompanying him. The forum was held by the Vietnam Chamber of Commerce and Industry (VCCI).

In the opening speech, PM Dung also expressed his appreciation to the Confederation of Indian Industry (CII) for helping the VCCI to establish the forum. The participation of over 300 Indian companies in the forum has shown a strong bilateral relation between the two countries.

At the discussion, PM Dung briefed them on the achievements gained by the two countries' corporations in recent years, especially in trade, economy and investment.

Last year, bilateral trade turnover between the two countries reached US$1 billion, an annual increase of 20%. Recently, India has poured over US$600 million into Viet Nam, especially from the Essar Hat and Tata steel syndicates, which placed India in the tenth place among 80 countries with investment capital in Viet Nam.

PM Dung also reported Viet Nam's progress in socio-economic development and the current foreign policies. Last year, Viet Nam attracted US$10 billion worth of foreign investment and US$5.2 billion in the first five months of this year.

He later called for Indian companies to invest in their most powerful areas and stressed that Viet Nam will open its market to India's industrial giants to invest in areas such as information technology, electricity, petroleum, coal mining, metallurgy and other areas.

On the same day, PM Dung also visited the headquarters of Tata Steel.