Prime Minister Nguyễn Xuân Phúc has approved a special mechanism for completion of Hà Nội's Cát Linh-Hà Đông urban railway project in an effort to overcome numerous delays and cost overruns.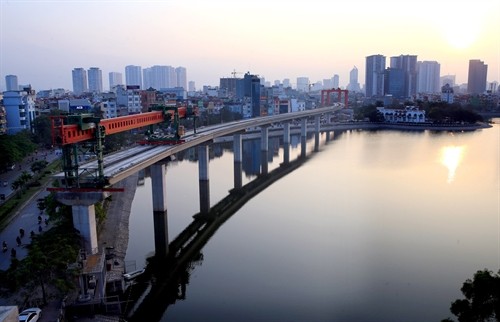 A section of Hà Nội's Cát Linh-Hà Đông urban railway project that crosses Hoàng Cầu Lake. — VNA/VNS Photo Huy Hù
Under the mechanism, proposed by the Ministry of Transport, the main contractor (China Railway Sixth Group) will be authorised  to make decisions, especially on buying equipment, without having to seek time-consuming permission from State authorities. However, the contractor must ensure that prices do not exceed those set out in the signed contract.
The project was supposed to be completed by the end of this year. However, only 74 per cent of the railway project has been completed since it broke ground in September 2010, according to the project's management unit.
The investment in the project increased from a projected US$542 million in 2008 to $892 million in 2014.
Regarding the selection of foreign contractors for safety assessments, the Prime Minister has agreed in principle that contractors will be chosen in accordance with Article 26 of the Law on Bidding, ensuring that selected contractors are qualified, have adequate experience and meet the requirements of the tender package.
On additional loans for the project, the Ministry of Planning and Investment and the Ministry of Finance were urged to promptly work with the Chinese side on reaching agreement on supplement preferential loans for the project.
The Prime Minister asked the Ministry of Transport to review the preparation and implementation of the project as a lesson for the next steps of the project and other projects to ensure the efficiency, quality assurance and construction progress.