Prime Minister Nguyen Tan Dung heads for the Netherlands, Uzbekistan and Ukraine on Sept. 27 on official visits aimed at further strengthening friendly relations and multi-faceted cooperation between Vietnam and these countries.

Dung embarks on his trip at the invitation of Dutch PM Mark Rutte, Uzbekistan PM Shavkat Mirzieev and Ukrainian PM Mykola Azarov.
* Vietnam, Netherlands: implementing strategic partnership in coping with climate change
Vietnam and the Netherlands established diplomatic relations in April, 1973 and bilateral ties have seen strong developments since the 1990s. Two-way trade has been increasing at an annual average of 15 percent, reaching 1.96 billion USD in 2010 and 900 million USD in the first half of this year, with Vietnam enjoying a trade surplus. The Netherlands is currently Vietnam's fourth largest export market in Europe, after Germany, the UK and France, buying mainly footwear, garments, cashew nuts, pepper, coffee, seafood, vegetables and wood products. It exports to Vietnam milk, medicine, steel, plastics and chemicals.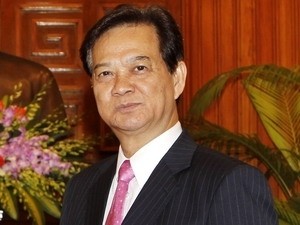 Prime Minister Nguyen Tan Dung (Source:VNA)
The Netherlands also emerged as the biggest European investor in Vietnam in 2010 with 153 valid investment projects capitalised at 5.6 billion USD, ranking 11 th among 92 countries and territories investing in the Southeast Asian country. Prominent among Dutch projects in Vietnam are the 2.1 billion USD Mong Duong power plant, the 410 million USD Phu My 3 power plant and the 180 million USD Pepsico Vietnam . Vietnam has one investment project in the Netherlands worth 5.6 million USD in goods distribution.
The Netherlands has provided non-refundable aid to Vietnam immediately after the establishment of diplomatic relations, focusing on humanitarian activities, education-training and health care, and later expanding to preservation of forestry, the ecology and the environment. The Netherlands pays special attention to cooperation with Vietnam in the fields of coping with climate change and managing water resources.
During PM Dung's up-coming visit, the two sides expect to discuss measures to increase bilateral cooperation in priority areas and promote the implementation of their strategic partnership in coping with climate change and water resource management. They also plan to sign several documents in environment, agriculture-animal husbandry and oil and gas.
* Vietnam, Uzbekistan: promoting cooperation in spearhead industries
Vietnam recognised Uzbekistan's independence in 1991 and the two countries set up diplomatic relations in January, 1992. The Vietnam-Uzbekistan Joint Governmental Committee on Economic, Trade, Scientific and Technical Cooperation was established in 1996. However, bilateral economic cooperation remains modest compared to potential and both sides' aspiration. Two-way trade stood at 18.6 million USD in 2010 and 15.5 million USD in the first half of 2011, with Vietnam posting an import surplus.
PM Dung will discuss with the Uzbekistan side measures to boost the friendly ties and economic, commercial and investment cooperation, in particular in spearhead industries of oil and gas and agriculture.
*Vietnam, Ukraine: creating new driving force for comprehensive cooperation and partnership
Vietnam and Ukraine established diplomatic ties in January, 1992 and have signed more than 20 agreements on cooperation in trade, maritime shipping, aviation and culture-education.
Bilateral trade stood at 256 million USD in 2010 but dropped to 95 million USD in the first six months of 2011, a year-on-year decrease of 30 percent.
Energy is an important aspect in bilateral cooperation with several major power projects such as the Hoa Binh, Thac Mo, Yaly hydro-power plants and the 500kV transmission line. Ukraine currently has four investment projects in Vietnam worth a total 24 million USD, focusing on ship building and railway. Vietnamese businesses have invested 27 million USD in four projects in Ukraine, involving instant noodle production, packaging and restaurants.
PM Dung's visit is expected to create a new driving force for the implementation of the agreement on developing comprehensive cooperation and partnership between the two countries, and look into specific measures to promote economic ties and cooperation in education-training./.