Prime Minister Nguyen Tan Dung on November 17 asked the Ministry of Planning and Investment to examine and complete a draft decision on an overall golf course plan through 2020 and said no golf courses should be built on rice-growing land.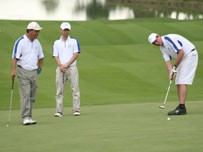 The Long Thanh golf course in the southern province of Dong Nai.
PM Dung also said no golf courses should be built on land intended strictly for industrial zones, urban areas and forests, and not to use state budget funds to build the courses.
According to Luu Duc Hai, director of the Department of Urban Development, golf courses in the country cover from 80 to 700 hectares each with most built on farmland.
As well, some investors make use of land for golf courses to develop other projects, and land for the actual golf courses accounts for just a small percentage of the total land needed for the projects, Mr. Hai said.
Land rent for golf courses is lower than that of other property such as villas, houses and trade centers, so many investors have exploited this to recoup their investment faster.
To restrict the number of such cases, PM Dung asked the ministry to make clear in the draft law that no hotels or villas are allowed to be built on land intended for golf courses and the land cannot be sold or transferred.
In regards to granting licenses to build golf courses, it would be the responsibility of the provincial People's Committees to decide which investors to grant licenses to and revoke licenses in cases where state rules are violated, he said.