Prime Minister Nguyen Tan Dung has instructed the Ministries of Industry and Trade, and Agriculture and Rural Development to monitor rice production and domestic demand to prevent a shortage.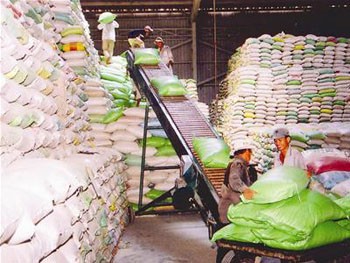 Rice stock for export at Kien Giang Export Import Company in Kien Giang province, the Mekong Delta (Photo: VNA)
He tasked them with ensuring businesses stock a certain quantity of the grain to meet domestic demand for the rest of the year and, especially, during Tet in February.
In related news, the Philippines' national food agency announced it would call for tenders on December 1 to supply 600,000 tons of 25 percent broken rice.
The Information Center for Agriculture and Rural Development based in Hanoi said November 16 the Philippines wants the rice to be delivered between February and May 2010.
Countries expected to attend the bid are Thailand, Vietnam, China, Pakistan, Australia, and the US.