Prime Minister Nguyen Tan Dung has ordered the Ministry of Industry and Trade to inspect and monitor the rice market in the Mekong Delta, according to the Government Office.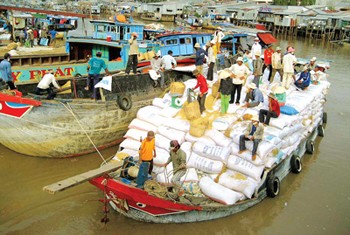 A boat of rice bags purchased by traders in the Mekong Delta (Photo: SGGP)
The move came after media reporting that in early August Chinese traders purchased rice in the delta with the volume up to 600,000 tons, including low and high quality rice.
Also according to the Government Office, PM Dung asked the ministry to report the conditions to him by August 25.
According to some media reports, if Chinese traders continue buying rice with such large quantity, it would affect not only Vietnam's food security but also rice companies who have signed several export contracts while the grain quantity left in the delta is not much.