Prime Minister Nguyen Tan Dung released an official directive March 9 asking local authorities to temporarily suspend the acceptance of any foreign investments in forestry, aquatic, and seafood product sectors, and promptly tighten control over existing investment projects.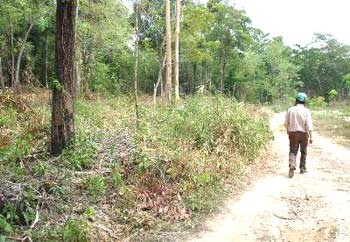 Thousands of hectares of land set aside for forest projects in Vietnam have been left fallow. According to a recent directive from the Prime Minister, foreign investment into such projects will be temporarily prohibited.
According to the directive, Mr. Dung highly appreciated foreign investment in these fields as they created more jobs for locals and helped them improve their living standards.  
However, not all investments had brought positive results, he said.  
In the aquatic and seafood product sector, some foreign enterprises – after being granted land on which to carry out their projects – did not adhere to their initial business pledges. Instead, they left the land fallow for long periods, which then required local officials to suspend their contracts and reclaim the land.    
The forestry sector has been facing similar issues. At least 305,353 hectares of empty land in 10 provinces have been advertised as rental space for forestry projects. Yet just 33,824 hectares have been snapped up by foreign project investors.  
The situation has been made worse by corrupt local officials who have unscrupulously allowed some investors to use more land than permitted. Such areas were illegally widened, encroaching on land belonging to local residents or even into natural forest areas banned for use.  
The PM's directive also asked the ministries of Planning and Investment, Agriculture and Rural Development, and Natural Resources and Environment, to join forces with relevant departments to carry out fact-finding trips and uncover any wrongdoings related to investment projects.   
In addition, local officials will no longer be allowed to approve new projects in the forestry, aquatic and seafood-product fields or grant certificates of use to foreign investors until the ministries finish their investigation.