After a meeting between the government and Electricity of Vietnam (EVN) to approve the group's operation plans for the period of 2009-2010, Prime Minister Nguyen Tan Dung recently outlined tasks for the electricity industry for the near future.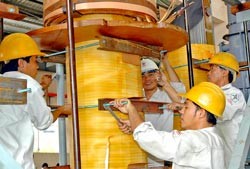 Workers at Thu Duc Mechanics - Electricity under EVN produce transformers
The PM lauded EVN's achievements over the past few years but pointed out its limitations in supplying power.

He said that in 2008 EVN's failed to supply adequate electricity to many regions throughout the country, causing an adverse effect on business production, as well as people's daily living.

Last year, the rate of progress of building EVN's many new power plants, electricity grids and power lines was behind schedule and will lead to an insufficient supply of electricity this year and for a few years to come, the PM said.

Consequently, EVN should try their best to speed up the building rate of progress of such projects to boost the capacity of the national grid in the context of the current global financial crisis, the PM urged.

At present, electricity supplied by EVN's plants produce up to 70 percent of the electricity market. In the future, this may witness a decline due to the participation of other investors into the electricity industry.

Although no longer a monopoly supplier, EVN still plays a decisive role of key electricity supplies in the country, stressed the PM.

Due to the recent official hike in electric prices, the PM requested EVN to improve the quality of its services as quality must be in line with prices.

As a measure to save power, the PM requested EVN to improve the management of electricity to reduce losses and not to invest in out-of-date technologically because such projects will consume a lot of power.
Preferential credit and ODA funds will be prioritized to electricity investments, EVN however is asked to take the initiative in seeking additional sources of funds, including commercial loans and issuing bonds, said the PM.

As to the tasks EVN has to fulfill in 2009, the PM pointed out that EVN must produce 74.68 billion kWh of electricity, an increase of 11.33 percent compared with the previous year and save 5 percent of its production costs by limiting power losses to 8.85 percent.

EVN must put into operation 9 new power plants, start building four thermoelectric plants and develop a grid to produce a further 2,300 MW of electricity, an increase of between 14 percent and 15 from last year. This will ensure electricity will be delivered to the countryside and supplied to farmers at official retail prices by the end of the year.

Aside from investing in electricity projects, the PM emphasized that EVN is only allowed to make investment in technology for electricity production and telecommunication projects.

To help EVN fulfill its tasks, the PM entrusted the Ministry of Industry and Trade to forecast the demand for electricity in future years and propose top priority electricity investment projects for approval.

Delayed projects whose investors do not have adequate financial ability will be transferred to other qualified investment groups. Foreign investors will be allowed to purchase some shares issued by electricity projects.

The Ministry of Finance is responsible for considering EVN's application for raising its registered capital, while the Ministry of Planning and Investment is entrusted with the task of allocating ODA funds to EVN's current projects.