Prime Minister Nguyen Xuan Phuc yesterday said he was always open to hearing ideas on nation-building from any scientist.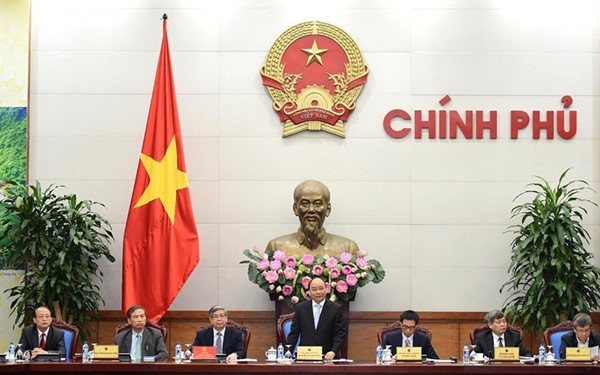 Prime Minister Nguyen Xuan Phuc speaks at a working session with the Central Council of the Vietnam Union of Science and Technology Associations (VUSTA) yesterday in Hanoi (Photo: vov.vn)
In a working meeting with the Vietnam Union of Science and Technology Associations (VUSTA) in Hanoi, the PM stressed that the Government, relevant agencies and authorities at all levels need to listen to scientists, intellectuals and the people, not only for the development of policies, laws and mechanisms, but also in other fields of governance in order to redress public grievances and remove obstacles to production and trade.

The PM said that VUSTA should closely collaborate with ministries and departments, especially the Ministry of Information and Communication, to develop projects and programmes that are practical and effective to boost socio-economic development.

"VUSTA needs to create a favourable environment and preferential policies for talented people and scientific activities in order to maximise the creativity and scientific potential of the community, people and enterprises," PM Phuc said.

"The associations also need to strengthen international collaboration and take advantage of foreign knowledge resources and advanced technologies."

The PM said he hopes VUSTA will continue to provide advice, opinions and social expertise at the central and local levels in developing legislation and issuing policies as well as inputs for major socio-economic development projects.

VUSTA Chairman Đang Vu Minh said that from an organisation with only 15 members when it was founded in 1983, VUSTA currently has 141 member associations, more than 430 scientific organisations and 101 press agencies with 2.8 million members in total.

With such a strong body of intellectuals with practical experience, it would be a good idea to have VUSTA members involved in the law-making process, said Le Minh Tam of the Vietnam Lawyers Association.

He proposed developing an official channel for VUSTA so that its members could get involved early and contribute ideas to drafting legislation.

His remarks were supported by Nguyen Quang Thai, Secretary General of the Vietnam Economic Scientists Association.

Scientists and experts should have the right to collaborate and talk directly with law drafters in the early stages, Thai said.