The Government will give the best assistance to Ha Giang Province to boost its socio-economic development and, in particular, improve living conditions for ethnic people in the border areas, Prime Minister Nguyen Tan Dung said.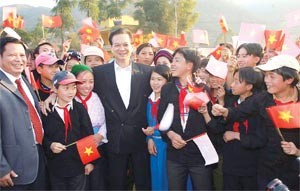 The government leader (C) and ethnic minority groups in Ha Giang
The government leader made the statement during his visit to ethnic minority groups in Ha Giang, a northernmost mountainous border province, on Feb. 10-11 to congratulate them on the occasion of the Lunar New Year Festival.
PM Dung urged ethnic minority people in the areas bordering on China to continue boosting friendly ties with the Chinese people and cooperate with them in building border areas of friendship, cooperation and development.
While working with local authorities, PM Dung praised the provincial Party, administration and people for their solidarity in overcoming difficulties and for their achievements in all areas. He cited a GDP growth rate of over 11 percent and a poverty reduction rate of 7 percent in 2006 as examples.
However, the PM said, because of its rough and infertile terrain, Ha Giang remains a poor locality, with 44 percent of households being listed as poor and 112 of the 195 communes being rated as particularly difficult.
He recommended that Ha Giang Province pay attention to developing the industrial sector, with focus on hydroelectricity and mining, in which it has potential.
In the afternoon of Feb. 11, the PM paid tribute to Hung Kings in Phu Tho Province and planted a tree at the Hung Temple.