Vietnam will spare no efforts to develop a long-term strategic partnership with Japan , Prime Minister Nguyen Tan Dung told the former Japanese PM, Fukuda Yasuo, during their talks in Ha Noi on Dec. 13.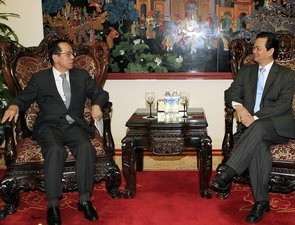 Vietnamese PM Nguyen Tan Dung holds talks with former Japanese PM Fukuda Yasuo in Ha Noi on Dec. 13, 2008 (Photo: VNA)
PM Dung hailed Fukuda's attendance at the Asian Forum of Parliamentarians on Population and Development, saying that the issue has topped Vietnam 's concern.
Vietnam , he noted, has posted a lot of achievements while implementing the population strategy, but still faces various difficulties in stabilising and improving the quality of its population.
The country's population has increased by 1.1 million people each year and is estimated to reach a stable level of 120 million between 2020-2025, PM Dung said, adding that this will pose big a challenge to Vietnam 's development and require more assistance and experiences from the international community.
The government leader spoke highly of former PM Fukuda's contributions to promoting relations between the two countries. Currently, Japan is Vietnam 's leading investor, trade partner and official development assistance (ODA) provider, with two-way trade value hitting US$17 billion this year, a year-on-year increase of 40 percent, he said.
Fukuda appreciated Vietnam 's hosting of the forum, saying that Vietnam has successfully achieved many targets in the field of population, particularly in improving the physical strength, height and health of its people.
The former PM said he was delighted at the development in Japan-Vietnam relations, especially when the two countries have recently celebrated the 35th anniversary of the establishment of diplomatic ties this year.
Fukuda said he hoped that the two nations will soon sign the much expected Economic Partnership Agreement, and Japan will accelerate the deployment of three major infrastructure projects in Vietnam , including the North-South expressway and high-speed rail route and the Hoa Lac Hi-tech Park.
Regarding the alleged corruption case involving Japan 's Pacific Consultants International (PCI), he said the two sides' effort to set up a joint committee to prevent bribery was very necessary, and Japan will consider resuming the provision of ODA for Vietnam .
PM Dung agreed with Fukuda's views, affirming that Vietnam has effectively utilised ODA capital provided by Japan .
The PM said his government already proposed relevant Japanese agencies to channel information and coordinate to handle the PCI case. The investigators prosecuted the case and the Vietnam Supreme People's Procuracy has asked Japan to provide more evidences in order to bring it to trial in accordance with Vietnamese law.
PM Dung also applauded the establishment of the Vietnam-Japan joint committee to prevent the misuse of Japanese ODA capital.
While reiterating Vietnam 's resolve to combat corruption, PM Dung said he was regretted at Japan 's unilateral decision to stop the provision of ODA for Vietnam at the Consultative Group (CG) Meeting early this month.
Both PM Dung and Fukuda agreed that the two sides need to closely work together to tackle the PCI case, and hold negotiations on the resumption of Japanese ODA flow for Vietnam.