Prime Minister Nguyen Tan Dung proposed a number of measures to bolster cooperation between Cambodia, Laos, Myanmar and Vietnam (CLMV) while attending the seventh CLMV Summit in Nay Pyi Taw, Myanmar on June 22.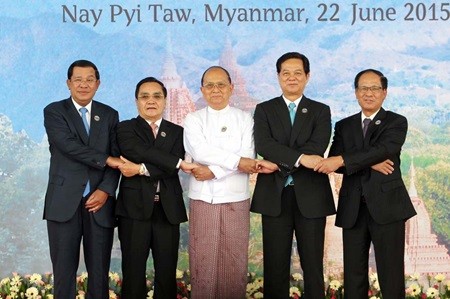 Prime Minister Nguyen Tan Dung (second right) holds hands for a photo with other heads of delegations to the 7th summit of Cambodia, Laos, Myanmar and Viet Nam(CLMV7) yesterday in Myanmar's capital Nay Pyi Taw. (Photo: VNA/VNS)
Firstly, the foursome should enhance connections in policies and infrastructure to facilitate cross-border transport and trade activities, he said.
He called on the parties involved to implement the agreement facilitating travel and goods transport among Greater Mekong Sub-region (GMS) countries as well as relevant bilateral and multilateral agreements.
The quartet need to speed up the implementation of the one-stop-shop (OSS) and ASEAN customs transit models while expanding OSS inspections at international border gates in the region.
The four nations should double their efforts to improve business and investment environment and strictly follow bilateral and multilateral agreements and commitments on smoothing trade and investment activities.
Secondly, he suggested enhancing the quality of human resources to serve industrialisation and integration while proactively promoting connections in training programmes with international organisations and development partners to ensure a relevant workforce for businesses and industrial parks as well as guarantee the rights of employees.
Thirdly, the four countries should increase communication campaigns about the potential and competitive advantages of CLMV along with new business opportunities from innovation programmes, the PM said.
He iterated the Vietnamese Government's commitments to CLMV cooperation and hoped the quartet would continue work together to more effectively implement cooperation programmes for sustainable development in each country, as well as for peace, stability and prosperity in the region.
Over the past 10 years, CLMV cooperation has reaped significant achievements in economics, trade, tourism, customs, transport connection and economic corridors, he said.
He added that the formation of the ASEAN Economic Community at the end of this year will offer both opportunities and challenges for the member states.
Cambodia, Laos and Myanmar proposed Vietnam continue its annual scholarship programmes for their students.
Leaders agreed to maximise the potential of the East-West economic corridor and the southern economic corridor; build policies to encourage investment in agriculture, industry and energy; and establish the CLMV sub-region to become one of the global leading tourism destinations.
They adopted the joint statement of the summit and agreed to organise the eighth CLMV Summit in Vietnam in 2016.
PM Nguyen Tan Dung said Vietnam is honoured to undertake the role as a coordinator of the CLMV cooperation next year, saying this is an important time for the four countries to grasp new development opportunities and narrow development gaps among ASEAN member states.
Stakeholders will more effectively implement cooperation programmes to enhance competitiveness and embrace CLMV economic links and Vietnam will do its utmost to carry out this responsibility, the PM stressed.
He took the occasion to inform the summit that Vietnam will coordinate with the World Economic Forum (WEF) to organise a high-level business dialogue on the Mekong sub-region on the margins of the eighth CLMV Summit.
Positioned to connect Southeast Asia with major markets such as China, India and Japan and with a golden age labour force and rich natural resources, CLMV countries hold huge potential to integrate deeply into the region and serve as momentum for ASEAN growth.