The new Vietnamese Prime Minister has asked for the Communist Party's approval to suspend a deputy chief inspector for allegedly abusing power and taking bribes from corrupt petrol officials.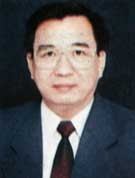 Tran Quoc Truong
PM Nguyen Tan Dzung on July 13 asked the Party Secretariat to allow him to suspend Mr. Tran Quoc Truong, deputy head of the Government Inspectorate, for three months.
The Government Inspectorate then decided to replace Truong with Mr. Mai Quoc Binh, in charge of economic inspection.
The PM made this request after hearing the Ministry of Public Security's report on investigation into a case involving employees of the Government Inspectorate who took bribes while inspecting construction works in the oil and gas sector between 2001 and 2003. Police investigators have probed the case for nine months.
The PM asked police investigators to accelerate the probes for final conclusions on responsibility of Mr. Truong and former general inspector Quach Le Thanh, who has allegedly abused his power in this case and allowed his subordinates to violate inspection regulations.
 
The Government leader urged the Ministry of Public Security to elucidate the responsibility attributable to Mr. Thanh.