Prime Minister Nguyen Tan Dung has asked related agencies to soon complete Hanoi's master plan for expansion through 2030.
At the third hearing on the master plan, with a vision toward 2050, presented by the international consultancy partnership PPJ in Hanoi on Nov. 26, the PM asked PPJ to continue refining the plan for Hanoi to expand the city's space and create a key metropolis which is surrounded by satellite townships.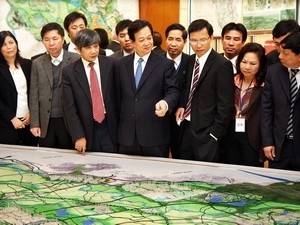 Prime Minister Nguyen Tan Dung (4th, L) takes a look at a Hanoi development plan on Nov. 26 (Photo: VNA)
Together with preserving and restoring historical and cultural relics, the plan must maintain the beauty of rivers and lakes around the city, he said.
To make the idea feasible, the PM asked the Ministry of Construction and the Hanoi People's Committee to instruct PPJ to more clearly articulate infrastructure planning, especially for railroads and roadways, and create a plan for a sustainable flood prevention system.
He also requested the consultant to clearly define the percentage of land to be used for urban areas, buffer zones, a green belt, functional urban areas and rural areas as well as orientations for industry, agriculture and services development.
PM Dung instructed related ministries and agencies to propose policies and mechanisms to implement infrastructure projects as soon as possible, and also instructed the Hanoi People's Committee to do sound work in site clearance.
The final master plan will be submitted to the National Assembly for approval in early 2010.