Thai Nguyen Province must speed up resettlement to help the building of the Thai Nguyen- Hanoi Expressway, scheduled to start sometime 2009, stressed PM Nguyen Tan Dung in a meeting with leaders of Thai Nguyen Province on Saturday.

At the meeting held to discuss socio-economic development plans for 2009 proposed by the provincial government, Prime Minister Dung also allowed the province to assign contractors to the project to upgrade Highway 3.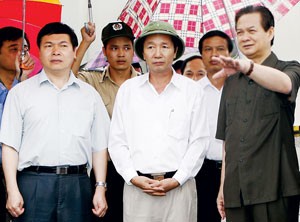 Prime Minister Nguyen Tan Dung (R) during his working trip in Thai Nguyen on Aug. 22
In response to the provincial government's request for permission to outline building plans for the ATK historical site, the region used to be battle fields in Tuyen Quang and Bac Kan provinces, Mr. Dung said that the province should work with the Ministry of Construction to make appropriate plans.
If necessary, the province can hire foreign experts to help with the design, he added.

The PM also requested Thai Nguyen to speed up projects to build social housing for the disadvantaged, workers and students.

On the same day, Mr. Dung offered incense at the July 27 Historical Site in Hung Son Commune, Dai Tu District, and the Commemorative Stele for Sacrificed Youth Volunteers in Gia Sang Ward, Thai Nguyen City, to pay tribute to heroes who had fallen for the freedom and independence of the country.