Vietnam always wants to lift the bilateral relationship with Indonesia to new heights, contributing to the building of the ASEAN Community as well as to peace, stability, cooperation and development in the region.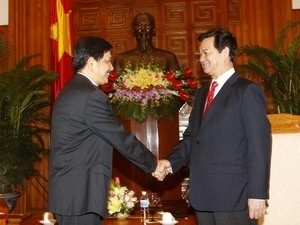 Prime Minister Nguyen Tan Dung receives Indonesian Ambassador to Vietnam Pitono Purnomo (Photo: VNA)
Prime Minister Nguyen Tan Dung made the statement at a reception for the outgoing Indonesian Ambassador to Vietnam , Pitono Purnomo, in Hanoi on August 18.
He congratulated Indonesia on its successful organisation of the 18 th ASEAN Summit and the 44 th ASEAN Ministerial Meeting, expressing his belief that Indonesia would continue promoting its role as the ASEAN Chair 2011 and in improving the association's status in the international community.
Dung said he was pleased with fine developments of the Vietnam-Indonesia relationship in all fields and hoped that the two sides will further boost bilateral cooperation in investment and tourism.
He expressed his wish that the two sides will strengthen joint naval patrols to maintain security and order in the waters between the two countries.
The PM suggested Indonesia consider treating Vietnamese fishermen apprehended in its waters in the spirit of humanity and friendship between the two countries.
He expressed hope that Ambassador Pitono Purnomo, in whatever position he holds in the future, would continue to make contributions to developing the bilateral ties.
For his part, the Indonesian ambassador spoke highly of Vietnam 's high economic growth, especially in the context of the global economic recession.
He said that the Indonesian side is looking towards the fourth joint patrol with the Vietnamese naval force in the East Sea.