Prime Minister Nguyen Tan Dung has requested centrally-run cities and provinces to promptly inspect mineral exploitation and labor safety condition at quarries in their localities.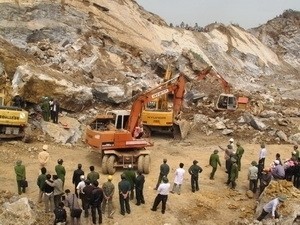 The scene of the Len Co quarry rockslide (Photo: VNA)
The requirement came after a number of serious labor safety violations in mineral exploitation, especially the Len Co quarry landslide in Nam Thanh commune, Yen Thanh district, the central province of Nghe An on April 1, which claimed 18 lives.
Suspension will be imposed on any quarry violating safety at works regulations, according to an official document of the Government's Office on April 5, which conveys the PM's instruction.
The PM assigned the Ministry of Industry and Trade to monitor and work with the Ministries of Construction; Labor, War Invalids and Social Affairs; Natural Resources and Environment and municipal and provincial People's Committees to conduct inspection into the exploitation of minerals for construction materials.
Police in central Nghe An Province on April 4 charged the owners of Len Co quarry with "labor safety violations".
After an initial investigation, police charged quarry owners Chin Men Co Ltd and company boss Phan Cong Chin, 47, with negligence. "Despite being warned by local authorities several times, he did not abide by labor-safety regulations," said Thai Van Binh, deputy head of the district police.
An official report by the provincial Communications and Education Department said the quarry was being incorrectly mined.
The stone was exploited from the foot of Len Co Mountain which led to instability, the report stated.
The company was granted a license to exploit the site five years ago by the provincial People's Committee.