Prime Minister Nguyen Xuan Phuc has instructed the Ministry of Natural Resources and Environment and the People's Committee of Ha Tinh province to report on the licensing and supervision of the wastewater discharge system at Taiwanese Hung Nghiep Formosa Ha Tinh Steel Company.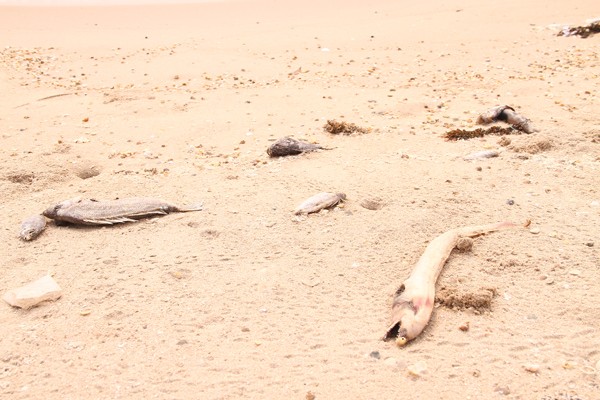 Dead fish washed ashore in the north central coastal province of Ha Tinh (Photo: SGGP)
The PM instructed them to spell out responsibilities of related individuals and organizations and install an automatic observation station at the discharge spot of the company, which will connect with the station of the province's Department of Natural Resources and Environment, to take samples and control the discharge at Formosa.
In an directive sent from the Government Office yesterday after a working session between the PM and dead fish affected provinces on May 1, PM Phuc tasked the ministry and chairmen of provincial people's committees to take a look at all coastal production establishments that have been discharging waste.
They must prevent these establishments from releasing wastewater into the sea without environmental observation and securitize discharge sources affecting the marine environment.
Mr. Phuc said the mass fish deaths caused a serious environmental incident negatively impacting the lives of fishermen in four central coastal provinces. Because the incident is unusual and occurs for the first time in Vietnam, the initial handling process was confused and passive.
Although related ministries and agencies have taken drastic efforts to solve problems arising from the case afterwards, some localities have slowly proposed solutions to deal with the dead fish crisis and some ministries have not cleared problems in their fields timely.
They have not well worked together to tackle the issue making their handling fail to meet requirements. Environmental management has showed many limitations. Discharge observation and supervision of some related plants have been lax.
Some bad subjects have taken advantage of the dead fish incident to spur and induce the people to disturb and complicating the situation.
Determination of the dead fish's causes must be implemented promptly, carefully and reliably on a scientific basis, the PM stressed, adding that the central and local agencies to seriously conduct his instructions released before to soon find out the causes, intensify control over waste discharge and prevent similar environment incidents from occurring.
He assigned the Minster of Science and Technology to work the Vietnam Academy of Science and Technology's chairman and related ministries and agencies to soon address the causes. They can mobilize assistances from foreign scientists to reach objective, scientific and independent conclusions.
The Ministry of Natural Resources and Environment has been assigned to be speaking agency over the fish death, and report to the PM measures to deal with violators in accordance with the law not excluding any individual and organization.
The Ministry of Public Security should step up investigation over environmental violations in the central region and crack down on those breaking the law. Relevant agencies are responsible for supplying the police force with necessary documents and evidences for the investigation.
PM Phuc ordered related ministries including the Ministry of Health, Agriculture and Rural Development, Natural Resources and Environment to immediately announce the locations of safe fishing grounds to fishermen and safe aquatic products to citizens.
The Ministry of Industry and Trade, the Ministry of Agriculture and Rural Development and local authorities have been asked to order businesses to buy offshore fishing products that have been tested/certificated safety for consumers.
The Ministry of Information and Communications should instruct press agencies to inform the dead fish case accurately and objectively, encourage fishermen to continue catching at waters 20 nautical miles from the shore.
It should provide the press with orthodox and in time information to inform citizens of safe seafood products having clean certificates and waters safe for human activities in central coastal provinces, PM Phuc added.
The State Bank of Vietnam has been required to ask commercial banks to extend debt payment deadline for fishermen and continue loaning them with preferential interest rate to resume production.
The Ministry of Public Security and local authorities has been ordered to continue investigation; handle those that have incited citizens over the dead fish and induced them to gather causing public disorder, affecting the lives of citizens, political security and investment environment and causing economic damage.
Prime Minister Nguyen Xuan Phuc has also approved proposals to allocate rice and funds to fishermen and assist them to collect and destroy dead fish.
Related article:
Government allocates 4,500 tons of rice to offshore fishermen
Seawater tests meet standards in dead fish affected provinces: Environment Ministry