Prime Minister Nguyen Tan Dung chaired a conference yesterday to discuss a master plan for the development of Ha Noi.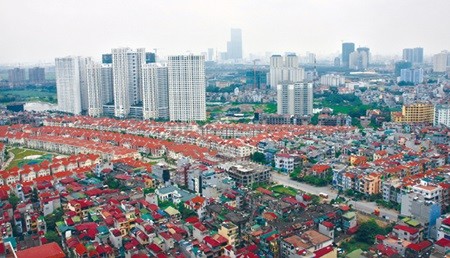 View from above of Ha Noi's Ha Dong District. The district lies on the bank of the Nhue River and is located 10km from the city's centre. The district's infrastructure has been upgraded, creating a new image for the city's development. (Photo: VNA/VNS)
The conference reviewed a number of changes to be made to the master plan, including adjustments to boundary lines shared with nine surrounding northern provinces.
The provinces of Phu Tho, Thai Nguyen and Bac Giang will be incorporated into Ha Noi, bringing the size of the capital city to an area greater than 24,300 sq km in size, almost double its current size. This will increase Ha Noi's population to 17.6 million. The capital city aims to become a social and economic hub at both the national and Asia-Pacific regional levels.
The plan received support and counsel from numerous international organisations, including the Institute for Urban Planning and Development of Paris IIe-de-France Region and other urban development experts. The plan defines three major objectives for the city, including improving connectivity between localities, utilising the nation's resources in an effective manner, and modernising infrastructure networks.
"Past policies were especially designed to support the development of special economic zones, including the Phu Quoc Special Economic Zone. These policies served as learning opportunities for policy makers working with such an important region as the capital," said Ngo Trung Hai, head of the Viet Nam Institute for Urban and Rural Planning under the Ministry of Construction.
During the conference, senior Government officials, representatives of various ministries, and local officials discussed problems and solutions in developing the capital's transportation system, industrial and agricultural capacity, health care, education, land-use and environmental protection.
PM Dung stressed the importance of the capital city's development plan and the role it will play in the country's national building effort. He asked the city's authority to pay close attention to pressing issues, including the city's anti-flooding plan, as well as the preservation and rejuvenation of major rivers and canals.
The PM also ordered the city to focus on completing important transportation projects, including sky train lines and belt roads construction.
He also urged the city to create policies to encourage private enterprises to join efforts to modernise railway networks and to set up more waste treatment plans, which must be located a safe distance from residential areas.