Prime Minister Nguyen Tan Dung on Tuesday delivered a report before the National Assembly reviewing the government's performance during the 2002-2007 term.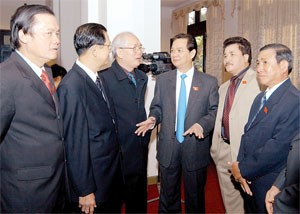 Prime Minister Nguyen Tan Dung (3rd, R) talks with NA deputies during the break time of the National Assembly's 11th session in Ha Noi on March 20

The PM said that the government has focused on creating a more consistent legal system in order to support the country's economic development.

Those policies have created a more favorable climate for business activities and diversification, especially within the private sector.

They have also helped to improve the investment environment and eliminated some forms of discrimination against certain business sectors in order to mobilize more capital from both local and foreign sources.

Some 170,000 new firms were established between 2002 and 2006, and the number of new firms entering the market has increased on average by 17% per year.

Total investment capital mobilized over the period also increased by an average of 19% per year to reach VND1.425 trillion, representing 39% of the country's GDP.

With regard to foreign relations, the government has actively strengthened diplomatic relations with other South-East nations and further integrated itself into the world economy.

However, the PM added that despite those successes, there were still many areas related to socio-economic performance that require greater effort, including the inefficient mobilization and use of various resources for socio-economic development, and low economic competitiveness at the national level.

Also, administrative reforms have not kept up with the pace of development, and bureaucracy, corruption and wastefulness have yet to be eliminated.

In his report though, PM Dung expressed his belief that the government of the next term will build on the achievements of the last term and quickly address shortcomings and weaknesses.