A meeting of the central steering committee on anti-corruption was held July 8 to review anti-corruption tasks for the first six months of the year, as well as set tasks for the second half.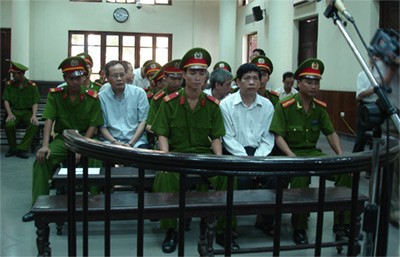 Defendants of a major corruption scandal from the Road Building Agency of the Ministry of Transport in court
Chairing the meeting, Prime Minister Nguyen Tan Dung pointed out some short-comings, such as the ineffectiveness of land and asset management, tardiness in detecting corruption and lax behavior to punish leading officials at corrupt agencies.
Mr. Dung proposed to strengthen inspection, auditing, prosecution, investigation and cooperation among relevant agencies in a bid to better discover corruption, as well as stressing the role of people in helping to find corruption in construction and investment projects, natural resource exploitation and land management.
The responsibilities of leaders in administration agencies should be regulated more clearly and people should use such regulations to supervise leaders' activities, he said.
The PM reminded those at the meeting to pay attention to activities of the steering committee for anti-corruption at all-levels and those agencies which are in charge of investigating graft.
At the meeting, the committee reported that they have exposed some corruption and prosecuted some people in the past six months.
Government inspectors said they had uncovered various cases of corruption, which caused losses of over VND11 trillion (US$624million).
Government inspectors imposed administrative sanctions on 11 organizations and 24 individuals, transferring further investigations of three other cases to relevant organizations.
Inspectors from central ministries and local authorities conducted 6,909 investigations, proposing administrative punishment on 275 collectives and over 1,000 individuals, as well as transferring 26 cases and 33 people to investigations units for further examination.
The committee is carrying out investigations on a further 17 cases, three of which have been brought to trial. 
The Prime Minister applauded the efforts of investigation units and required a quick conclusion of cases.