Prime Minister Nguyen Tan Dung sought for the Japan Business Federation (Keidanren)'s support for Vietnam in human resources training and investment attraction while receiving its Chairman Yonekura Hiromasa in Tokyo on December 13.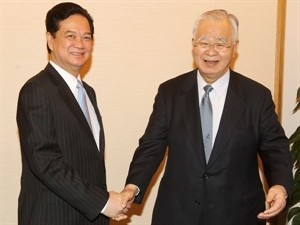 PM Dung meets with Japan Business Federation Chairman Yonekura Hiromasa. Photo: VNA
PM Dung arrived in Tokyo in the evening of December 12 (local time) for a four-day visit during which he will attend the 40th ASEAN-Japan Commemorative Summit and the fifth Mekong-Japan Summit.
He pinned high hope on the close collaboration between Keidanren and Vietnamese ministries and agencies, especially in realising the fifth phase of the Vietnam – Japan Joint Initiative and the industrialisation strategy in the Vietnam-Japan cooperation framework.
Speaking highly of Keidanren's role in fostering bilateral ties in the recent past, the Government leader said more dialogue forums or business visits hosted by the federation should be held each year.
Hiromasa vowed to realise PM Dung's above proposals, saying that he wishes the Vietnamese Government will create a business-friendly environment where Japanese firms can thrive, especially those active in the fields of strength like energy, electronics, infrastructure and farm produce.
Japan is the biggest supplier of official development assistance (ODA) to Vietnam with 200 billion JPY each year, or 30 percent of ODA inflows in the country. It is also Vietnam's biggest foreign investor, registering over 34.5 billion USD in total investment.
As a leading trade partner, Japan traded with Vietnam over 24.6 billion USD in goods in 2012 and the figure is expected to rise to 25 billion USD this year.
The two countries signed a lot of significant documents like the agreements on Vietnam – Japan economic partnership, investment encouragement and protection, and double taxation avoidance. They are working together in negotiations on the Trans-Pacific Partnership (TPP) agreement.
On November 26, 2012, the Ministry of Planning and Investment and Keidanren signed a memorandum of understanding on establishing a dialogue channel through which both countries will discuss the attraction of Japanese investment in Vietnam for its sustainable economic development, opportunities and involved challenges.
The first dialogue took place on July 26, 2013 as part of the Vietnam – Japan Joint Initiative with its fifth phase launched on the occasion.-VNA