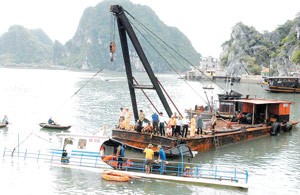 Rescue force fishes a passenger ship, sunk by natural desaster, out of water in Quang Ninh
Prime Minister Nguyen Tan Dung yesterday sent his condolences to the families of natural disaster victims in the northern province of Quang Ninh and instructed the relevant agencies to continue search and rescue missions for those still missing.
The Prime Minister made the request to continue search efforts in a message sent earlier to the Quang Ninh provincial People's Committee in the aftermath of violent hailstorms and high winds which killed 13, injured 21, and left 4 missing yesterday.
Before PM Nguyen Tan Dung sent his statement, the Central Steering Committee for Flood and Storm Control and the National Committee for Search and Rescue had already sent an urgent message to authorities in Quang Ninh requesting they take all possible measures to search for missing people. The message went on to ask that workers involved in the rescue effort also offer assistance to the victim's families by helping to repair damage to houses as well as in the recovery of sunken boats.
Additional relief has been offered by the Viet Nam Fatherland Front Central Committee, who is giving VND 2 million to the families of dead or missing victims, and VND 1 million to those injured by the storms.