Prime Minister Nguyen Tan Dung arrived in Sofia capital on early June 5 (Vietnam time) to commence first ever official visit as head of the Vietnamese Government to Bulgaria at the invitation of his counterpart, Boico Borisov.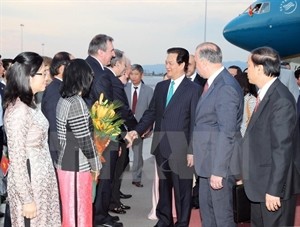 Prime Minister Nguyen Tan Dung (blue tie) was welcomed at the airport (Photo: VNA)
At the airport, the PM was welcomed by Bulgarian Deputy Prime Minister for European Funds and Economic Policies Tomislav Donchev, Bulgarian Ambassador to Vietnam Sergey Michev, Vietnamese Ambassador to Bulgaria Le Duc Luu together with overseas Vietnamese in the host country.
He is scheduled to meet and hold talks with Bulgarian leaders and businesses to promote economic, trade and investment cooperation between the two countries, as well as meet with representatives of the Vietnamese community in Bulgaria.
The visit is to maintain, reinforce, and expand bilateral collaboration in traditional fields such as education-training, culture, tourism, science-technology, security, defence labour and cooperation at local level.
Bulgaria was among the first 10 countries to establish diplomatic ties with Vietnam (February 8, 1950), initiating the traditional friendship and long-term cooperation between the two countries over the past 65 years.
The official friendly visit by late President Ho Chi Minh to Bulgaria in August 1957 has laid foundation and important milestone for the bilateral relations.
Bulgaria is running 10 investment projects in Vietnam with the total registered capital of US$ 31 million in processing industry, manufacturing, information and communication, science-technology and services.
Two-way trade reached US$ 88 million last year. Vietnam mainly exported garment-textile, footwear, coffee, pepper, tobacco, coal and seafood while importing chemicals, medicines, wine, machine, shipbuilding equipment, and animal feed from the market.