Prime Minister Nguyen Xuan Phuc yesterday urged Binh Duong province to confirm a target of doubling the current number of enterprises, reaching 50,000 by 2020.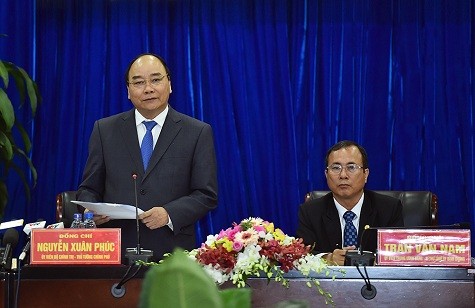 Prime Minister Nguyen Xuan Phuc states at a meeting with Binh Duong province leaders on January 1 (Photo: VGP)
The PM was quoted as saying during a visit to the province
The Prime Minister said he hoped that Binh Duong would strive to become a startup and successful business development center in the southeastern region and the country.
Binh Duong is one of the country's industrial leaders and among 13 provinces and cities contributing to the central budget.
Ending 2016, the province posted the gross regional domestic product (GRDP) growth of 8.5 percent. GDP per capita hit VND108.6 million (US$4,776). Economic structure continued going the right way in which industry accounted for 63 percent, services 23.5 percent and agriculture 4.3 percent.
For the last five years, industrial production index in the province increased nearly 11 percent a year. Last year budget revenue exceeded estimates to reach VND40 trillion ($1.76 billion), up 9 percent against 2015.
With suitable policies, the province attracted US$2.4 billion foreign direct investment (FDI) capital in 2016. FDI projects now total 2,827 with the registered capital of $25.7 billion, accounting for 13 percent of the country's FDI projects and 8.5 percent capital.
Binh Duong is one of five provinces and cities seeing FDI capital attraction exceed $20 billion.
Prime Minister Nguyen Xuan Phuc said that after 20 years of separating from former Song Be province, Binh Duong has been in the stature of an industrial province leading in rolling out the red carpet for investors.
Thanks to creative ways of doing, the province has made a breakthrough development and surged as an industrial spotlight and example of the country.
Pointing some limitations of the province, Mr. Phuc said that Binh Duong had yet to well promote its advantage of an entrance gateway to HCMC by developing high quality and support services for industrial and urban development.
Provincial competitiveness index (PCI) was low being ranked 25 out of 63 provinces and cities nationwide and fourth in the southeastern region.
The number of hi-tech applied firms making high quality products was not high and the connectivity in business and regional development had been weak. Startup spirit had not been high and environmental protection posted many dangers with wastewater release still occurring with some projects, he said.
The spiritual and material life of a part of workers had still been low, said Mr. Phuc.
Talking to the highly potential province's development direction, the PM prompted Binh Duong to be in the vision of developing into a city directly under the central government, the country's industrial hub and a destination for investors with creative ideas.
The core matter was to create breakthroughs in business and investment environment, improve human resource quality and better connecting infrastructures between the province and the southern region, he said.
The province's growth driving force must base on productivity increase, technology application, dynamism and creativeness and better connectivity between domestic and FDI businesses, he added.
Mr. Phuc asked all level authorities in the province to solve social issues and take care of families under preferential treatment policies and workers to celebrate a happy and safe Tet festival.
At night on the same day, the province organized the 20th anniversary of reestablishment, January 1, 1997.
Attending the event was former general secretary Le Kha Phieu, former president Nguyen Minh Triet, Prime Minister Nguyen Xuan Phuc and leaders of ministries and agencies.
On behalf of party and state leaders, PM Phuc awarded the provincial Party Committee, government and citizens the First Class Independent Medal for their outstanding performances for the last 20 years.