Prime Minister Nguyen Tan Dung has asked the southernmost province of Ca Mau to expand aquaculture.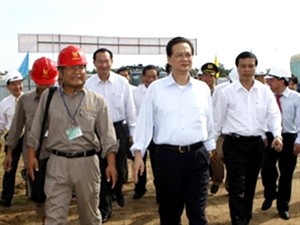 Prime Minister Nguyen Tan Dung (front, R) visits the construction site of the Ca Mau Fertilizer Plant on August 17
"There is no other province in the country with seafood exports of US$700-800 million a year like Ca Mau," he said while on a visit there on August 17.
 
He asked the province to set up shrimp farming on an industrial scale to at least 20,000 hectares of water surface to fully capitalize on its potential.
 
He also told provincial leaders to intensify investment in transport infrastructure and irrigation to ensure sustainable development of agriculture.
"Ca Mau should focus on education and healthcare as well as speed up the slow pace of capital disbursement," Mr.Dung said.
He promised to consider and approve the province's proposals quickly.
The PM agreed to immediately advance VND100 billion (US$5.5 million) for Ca Mau to build bridges and roads in rural areas.
 
He approved the province's proposals to build a bridge over the Cai Lon River in Nam Can District at an estimated cost of VND300 billion (US$16.5 million), continue to build the embankment in Ca Mau town, and develop Song Doc town and Tran Van Thoi District into economic zones.
 
Mr.Dung visited the Ca Mau Gas, Electricity and Fertilizer Industrial Zone where he expressed satisfaction with the early operation of two power plants.
"The plants have made a considerable contribution to the national energy strategy and helped overcome a power shortage in the recent past," he said.
He called for speeding up construction of the nitrogenous fertilizer factory and greater focus on social welfare schemes.
The Prime Minister urged the investor, the Vietnam Oil and Gas Group -- or PetroVietnam -- to promote employment, especially for young people of working age in over 220 families displaced by the project.
 
He called on the local police and visited the Hon Da Bac national historical relic and Ca Mau Fertilizer Plant, and attended the groundbreaking ceremony for the Bao Nhan high school in Thoi Binh District.