Prime Minister Nguyen Tan Dung has asked the customs department to upgrade import-export procedures to regional standards, saying the extra time taken in Viet Nam is "unacceptable."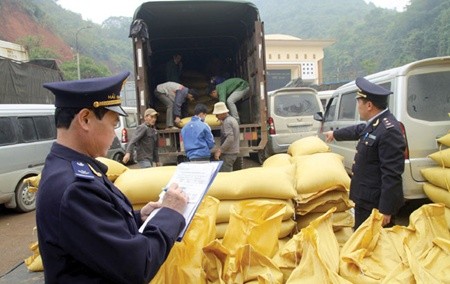 Customs officers examine goods for export at northern Lang Son Province's Coc Nam Customs Division. — VNA/VNS Photo Hoang Hung
In a Wednesday meeting, he told leading officials of the Viet Nam General Department of Customs that they should simplify processes and procedures related to export and import and cut the time involved.
He also said that Viet Nam Customs should improve its management capacity and reform in ways that made it more effective, transparent and in line with international norms.
"It is unacceptable that export procedures take four days, while the average time in the region is just two, and import procedures take four days when the regional average is three," Dung said.
In a stern assessment, he said many customs staff ignored their responsibilities and lacked a service-minded attitude.
"There are cases of corruption, harassment and causing trouble for people and enterprises.
"There are also customs staff who collude with enterprises in smuggling and allow wrongful customs clearance to avoid paying due taxes, causing losses to the State budget and affecting the business environment," he said.
He called for further application of information technology to facilitate export/import procedures and reduce contact time between enterprises and customs officers.
The Prime Minister agreed that the department should equip itself with modern equipment, including scanners, to better control smuggling. Oversight and management of temporary import and re-export activities, especially in products such as alcoholic drinks, tobacco and animal parts should be tightened considerably, he said.
A report prepared by Viet Nam Customs says the fight against smuggling and trade fraud has seen positive results in the first half of the year.
By mid-June, more than 8,900 cases were discovered and solved, a 19.8 per cent decrease over the same period last year.
The value of violations was estimated at VND168.9 billlion (over US$8 million), a 14.3 per cent increase over the same period last year.
The report also said that in the first six months of this year, the sector's contribution to the State budget was VND117.5 trillion (nearly $5.5 billion), 24.4 per cent higher than the corresponding period in 2013. Of this, VND38.1 trillion ($1.8 billion) came in import-export taxes, VND6.9 trillion ($329 million) in special consumption taxes, VND94 billion ($4.4 million) in environmental protection tax and VND72.2 trillion ($3.4 billion) in value-added tax.
Deputy General Director of Viet Nam Customs, Nguyen Duong Thai, said that the first half increase in turnover was because of the rapid increase in some imported goods with high turnover and taxes like petroleum, cars, car parts and machines.
Thai also said that the Viet Nam Automate Cargo and Port Consolidated System and the Viet Nam Customs Information System (VNACCS/VCIS), which help speed up e-customs applications in the country, had been implemented at all 34 departments in cities and provinces with the participation of over 28,400 enterprises.
"The system has been implemented without causing any problem to import-export activities and enterprises have been quick to adapt to it," he said.