Ministers, Government officials and People's Committee leaders should improve management of food safety and hygiene, Prime Minister Nguyễn Xuân Phúc said in a recent directive.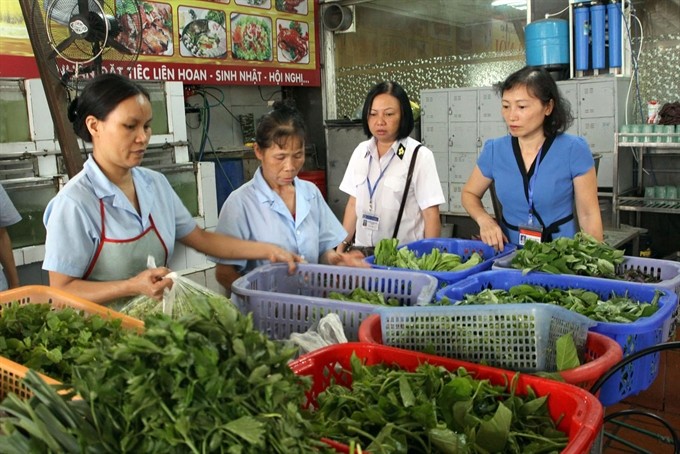 A food safety inspection team of Hà Nội checks vegetable quality at a restaurant in Thanh Xuân District. The PM has urged ministries and localities to improve food safety management. (Photo: VNA/VNS)
The directive showed continuous all-out efforts by the new Government to curb the outflow of contaminated food that overwhelms markets across the country and poses high risks to consumers' health.
Last month, for the first time, PM Nguyễn Xuân Phúc chaired a teleconference with cabinet members and the leaders of all 63 localities to enact measures and mechanisms to tackle food safety.
In a newly issued directive on the matter, the Government leader urged Ministry of Health, Ministry of Agriculture and Rural Development (MARD), and Ministry of Industry and Trade (MIT) to step up food safety inspections, especially unscheduled ones, and impose punishments on violators. The individuals and organisations who overlook management will be subjected to fines, he said.
PM Phúc directed the Ministry of Finance to compile a spending plan in which localities were allowed to spend money collected from violators on conducting inspections, technology investment and contaminated food disposal.
People's Committees at all levels must be responsible for ensuring food safety in areas under their management. They should see food safety as an urgent task, and all sources must be mobilised to assure food is safe.
The document directs a national steering committee on combating smuggling, commercial frauds and counterfeit goods, and customs, border guards, watch market forces and relevant agencies to monitor transport, export, import and trading of fresh food and beverages with unclear origins.
MARD, MIT and the Ministry of Health were tasked with co-operating with relevant agencies to issue a list of banned substances and stop the use of sabutamol, antibiotics and other regulated substances in farming, food processing and production.
The PM asked the Ministry of Health to stiffen controls on functional food and food additives, and direct localities to ensure food safety in street food stalls, industrial zones, tourism spots, festivals and big events.
Phúc also called on media agencies to report outstanding safe food models and violations to the public in a reliable, unbiased and timely manner.
In particular, the PM highlighted the establishment of planting areas that ensure raw materials for farming produce while calling for the development of safe food production models and supply chains.
On Monday, MARD announced criteria to develop safe food supply chains as part of efforts to expand the model nationwide.
According to the ministry, a safe farm produce supply chain is a collection of factors that have strong, stable, sustainable economic connections among farmers, manufacturers and enterprises. It oversees all steps, from choosing varieties, irrigation, fertilising and using pesticides to preliminary processing. The food quality must comply with food safety regulations and be given origin traceability when consumers buy them.
Food safety in agriculture was made a priority task for the sector this year, Vũ Văn Tám, the MARD deputy minister said.
He said the ministry had piloted safe food models in Hà Nội and HCM City from 2013 to 2015. Food supply chains would be expanded to other areas in the coming time.
"It requires co-operation from State agencies, production and business facilities, and media to offer safe farming products manufactured under safe food supply chains," he said.
According to MARD, 280 safe food supply chains have been set up in 35 provinces and cities across the country so far. Main products include vegetables, fruit, tea, meat, eggs and aquatic products. Last week, the ministry also publicised 69 stores nationwide certified for providing food that meets safety requirements.