Prime Minister Nguyen Xuan Phuc has asked the northern province of Hung Yen to focus on reforming its administrative system and improving its business and investment environment.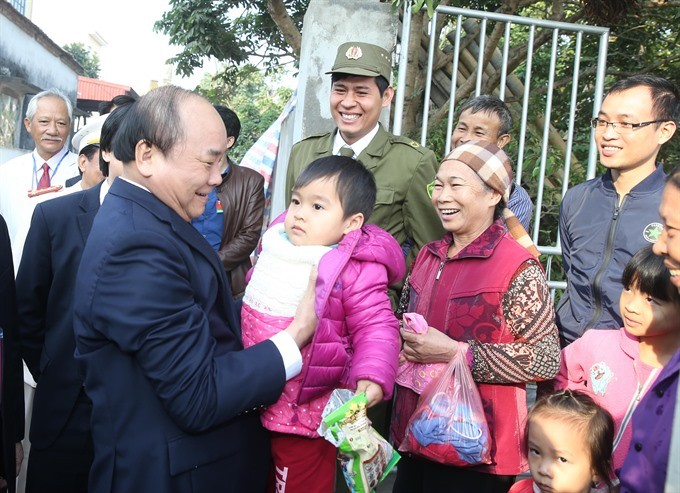 Prime Minister Nguyen Xuan Phuc (left) embraces a child during his visit to Hung Yen yesterday on the province's 185th founding anniversary.
Attending a ceremony yesterday to mark the province's 185th founding anniversary and 20th anniversary of its re-establishment, the PM said he hopes the province will optimise its advantages and enhance competitiveness for more rapid and sustainable development.
He asked the province to post a provincial competitiveness index equal to the average level of the region in 2017-18, while mobilising resources for the socio-economic infrastructure, promoting production and improving product quality, and developing high technology agriculture.
Hung Yen should also pay more attention to human resources development and the application of high technology, while ensuring social security for residents, he said, adding that the province should further boost tourism in line with the conservation and promotion of cultural values.
The PM urged provincial authorities to strengthen the prevention of corruption and wastefulness, while effectively implementing the Party's resolution on Party building and the Politburo's direction on strengthening the study and following the moral example of President Ho Chi Minh.
Located on the left bank of the Hong (Red) River and the centre of the northern delta, Hung Yen , also known as Phố Hiến, was founded in 1831 and re-established in 1997. The province, which has a long tradition of patriotism, is home to many famous patriots, including Trieu Quang Phuc, Pham Ngu Lao, Nguyen Thien Thuat and Hoang Hoa Tham.
Implementing the Party's renewal policy, Hung Yen's economic growth is higher than the national average. Per capita income has increased 10 times compared to 20 years ago. Its economic structure has changed rapidly towards modernisation and industrialisation. Hung Yen expects to be among 16 localities with the highest budget collection in 2017.
PM Phuc presented the Independence Order, first class, to the Party organisation, administration and people of Hung Yen to recognise the devotion and contributions of the province to national construction and defence.