The office of the Government has recently released the report on PM Nguyen Tan Dung's assessment about the results of the recent measures against inflation and about the solutions to maintain a sound international payment balance and develop the activities of the stock market. The State Bank of Viet Nam has been directed to improve current policies on indirect foreign investments in order to lure more investors.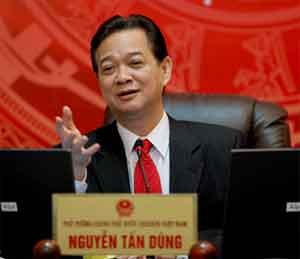 P.M. Nguyen Tan Dung
According to the report, to continually lure indirect investment capital, the country must implement appropriate strategies to better manage these inflows.

Therefore, the PM directed the State Bank of Viet Nam to improve its current policies regarding the opening of accounts by investors of indirect foreign investments, establish information collection channels to obtain the necessary information about the investors and follow up the scale of capital inputs, outputs and the form of investment.

PM Nguyen Tan Dung also directed the State Bank to have specific measures to effectively manage the loans of enterprises within this sector, especially short-term loans in foreign currencies without deposits and foreign exchange transactions in foreign currencies.

PM Dung has requested that the Ministry of Finance submit for his approval all applications and proposals on the establishment and operation of wholly-foreign owned securities funds management companies and the issuance of regulations on management of the operation of representative offices of foreign stock securities companies in Viet Nam.