Lam Dong Province should continue to tap its advantages like climate and natural resources to promote agriculture, forestry, tourism for sustainable development, Prime Minister Nguyen Tan Dung said.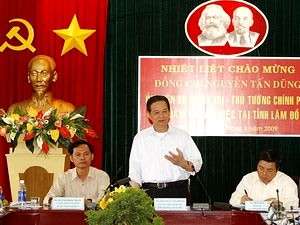 Prime Minister Nguyen Tan Dung (C) met Lam Dong Province authorities during a visit to the province on August 18 and 19
During a tour of the Central Highlands province on August 18 and 19, he met top local officials and hailed the province's efforts to achieve the 2006-10 socio-economic targets.
The province eyes 12.5-13.5 percent economic growth, increasing per capita income to VND16.5 million, and cutting poverty to under 8.5 percent from 29 percent now.
In the first seven months it achieved growth of 10.7 percent, while exports rose 11 percent.
The Government is willing to advance funds to the province for urgent projects, Mr. Dung said, urging it create the necessary conditions to attract investment, particularly in tourism.
 
In response to a request by Lam Dong authorities, he ordered concerned ministries and agencies to look into operating flights from Lien Khuong airport to regional countries, upgrading National Highway No. 20, building the Truong Son Dong road and industrial zones, and developing forestry and irrigation.
 
He told the authorities to mobilize funds also from ODA and individual sources.
The province needs to adopt technologies, including for farming flowers, vegetables, fruits, tea, coffee and cold-water fish, he said.
Blessed with a temperate climate and abundant natural resources, Lam Dong should focus on turning its tourism and services sectors into flagship industries, he said.
It also needs to focus on developing a forestry-driven economy, which, he said, would help reduce poverty and improve the living conditions of ethnic minorities.
He also instructed Lam Dong to continue investment in ethnic minority areas, poverty reduction, vocational training and anti-epidemic programs.
The PM asked the People's Committee to work with the Vietnam Coal-Mineral Industries Group for the integrated bauxite mining and aluminum project to ensure economic growth, environmental protection, and sustainable development.
PM Dung also called on the Da Lat Bishop's Office before wrapping up his visit.