Prime Minister Nguyen Tan Dung called on northwestern Lao Cai Province to bring into play its rich minerals and advantageous conditions in tourism and border gate economy to serve its rapid and sustainable development.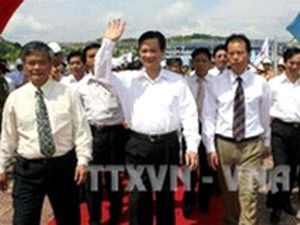 Prime Minister Nguyen Tan Dung (second, L) and Government officials visit Lao Cai Province
During his working visit on August 25, the government leader said the province needs to invest in its mining industry to raise the annual apatite output to 4 million tons, iron at the Quy Sa mine to 1 million tons and copper to 20,000 tons in the next few years.
He noted that while doing so, Lao Cai Province must pay attention to environmental protection.
"The province should revise its trade and tourism development plan to ensure sustainable development and stable jobs for local people," he said.
The PM also asked Lao Cai Province to closely coordinate with relevant ministries in making plans on agro-forestry development and mineral exploitation.
In the coming time, the province should continue implementing the Government's policies on curbing inflation, develop production, ensure social welfare and overcome the consequences left by storm Kammuri, he told the provincial leader.
On the occasion, the government leader extended deep condolences to families of people who died during floods triggered by storm Kammuri early this month.
Previously, PM Dung cut the ribbon to inaugurate a 10,000 ton copper refinery plant as part of the VND1.3 trillion Sin Quyen Copper Complex invested by the Vietnam Coal and Mineral Industries Group
Lao Cai Province recorded a GDP growth of 11.3 percent and per capita income of VND10.65 million in the first seven months of the year. The province has achieved the universalisation of primary education, kept good relations with neighboring China 's provinces and completed the border demarcation and landmark planting.